Ferrari Experience Rome | Drive a Ferrari Portofino through Castelli Romani
---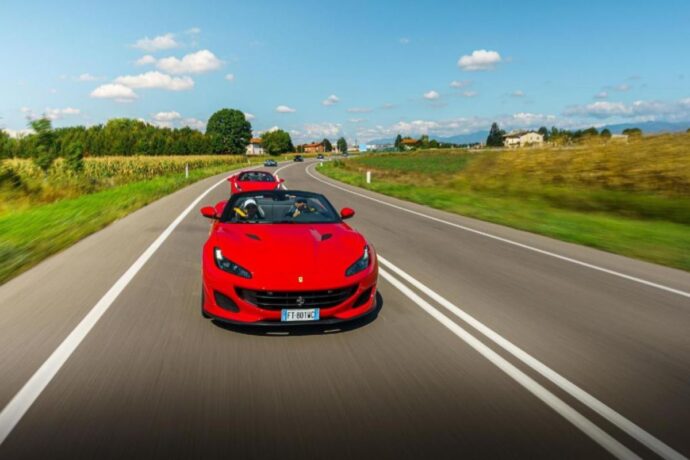 ---
LivTours Ferrari Experience Rome brings Ferrari to you in Rome! This is the perfect day out for anyone who is staying in Rome and loves supercars. Luxury and adrenaline are the perfect combination in this amazing day Experience. You will be able to drive your very own Ferrari through some of the most inspiring and gorgeous hills and lake views surrounding the Eternal City. Get behind the wheel of a Ferrari Portofino and experience la dolce vita!
LivTours prides itself on bringing you once-in-a-lifetime experiences just like this one. The Ferrari Experience Rome is a fantastic way to experience firsthand the celebrated Italian company, the luxury of staff at your complete disposal throughout the experience, and the ability to taste and be served in high-end restaurants.
BOOK NOW
---
Enjoy a full day Italian Ferrari experience across the stunning Castelli Romani hills

Get the thrill of the most exclusive Ferrari experience in Rome & surrounding area

Feel the power & speed of a Ferrari Portofino supercar

Take a lunch break in Castelli Romani and dine in a top-rated restaurant from 1882

Explore the beautiful landscapes of Castelli Romani & the famous Castel Gandolofo
BOOK NOW
Exclusive private Tours and Experiences. Also offered in Spanish, French, Portuguese, Swedish and Russian
Our prices always include tickets and reservations fees (no waiting in lines!)
Our tour guides and staff are selected experts and speak perfect English
Easy to book and prepay your tours with our secure payment system
Eco-sustainable tourism, designed to respect and support local culture, art and traditions
---
Your LivTours Ferrari Experience Rome starts in Rome where a chauffeur will come and meet you at your hotel to whisk you away to the Baths of Caracalla, one of the most well-preserved ancient thermal baths in the world. Then the true adventure starts when you get into the driver's seat of this Italian sports car! Feel the horsepower roar as you start the ignition of this dream vehicle which can go from 0-100 km/h in only 3.4 seconds!
LivTours gives you the ultimate experience as you follow the lead car driven by an experienced Ferrari driver through the panoramic and majestic roads toward Castelli Romani and the beautiful small towns in the area: Albano, Ariccia, Castel Gandolfo, and Nemi. The Alban Hills are known for their volcanic lakes, amazing views, and mouth-watering local cuisine.
You are literally in the driver's seat and you are encouraged to make pit stops to enjoy the stunning views Castelli Romani has to offer. You will also be able to explore the town of Castel Gandolfo, known as the Pope's summer residence.
This unique full-day Ferrari Experience Rome includes an amazing lunch at the Ristorante Pagnanelli, an establishment that overlooks Lake Albano that has been running since 1882.
After you have felt all the rush of a 620-horsepower Ferrari and all the relaxation of a five-star meal and rolling Italian hills, you will be chauffeured back to your hotel in Rome.
Come enjoy a day of charming towns, lush countryside, delicious food, and test-driving a Ferrari!
BOOK NOW
---
One Ferrari Portofino for the day

Space to bring one passenger

Safety Car guiding the experience

Roundtrip transfer from Hotel

Lunch at Pagnanelli (or similar) for two
BOOK NOW
---
LivTours' group size of max 6 participants is and always has been based on sustainable travel, and we are proud to be at the forefront of change and innovation in the industry.  LivTours is committed to providing travelers with truly sustainable tours with the lowest possible environmental impact, all while supporting the local industries and people of each unique destination. To learn more about how you can actively support sustainable tourism  and how LivTours is contributing, click here.
BOOK NOW
---
When you book a LivTours Private Tour or Experience, you are guaranteed a dedicated, expert guide that allows you the flexibility to start your tour at a time which is convenient for you, making planning easy. Our private tours ensure that you will get a tailored experience to meet all your needs so we go at your pace, perfect for families with younger children, elderly, or individuals with accessibility needs. Please be advised that all private tours begin at a base price starting at two people*. Prices are inclusive of entry tickets where applicable. *Some Ferrari private experiences are inclusive of one person only.
BOOK NOW
---
Make your day even more unique and comfortable by upgrading your tour with a customizable LivTours optional add on!
Add another Ferrari Portofino
3,800 €
6,612 A$
3,534 £
4,484 $
BOOK NOW
---
Fantastic experience
"We have been to Rome several times so when we saw LivItaly's Ferrari experience which was possible while in Rome, it sounded like a new experience that would be just perfect for us. It really was! Driving the F458 around the hills just outside of Rome was an experience my husband won't easily forget. Once there, we had the chance to see some views of Rome and the surrounding area that were breathtaking. If you're a Ferrari buff but can't fit in a trip to the Ferrari headquarters in Maranello, this is certainly a great substitute. We had a wonderful time!"
Emma Jean - USA
---
BOOK NOW
---
By selecting Choose Dates Later / Buy as Gift at booking, any tour can be purchased without fixed dates. This is the perfect option if you want to purchase your tour as a gift for a loved one, or if you are in the pre-planning phase of your vacation. After booking, you will receive a Travel Voucher Code and full instructions on how to schedule your tours when ready. Once your travel plans are confirmed, you can easily use the Travel Voucher Code on the LivTours website to formally schedule your tours. You can find out more here.
BOOK NOW