Family Experiences: Uffizi for Kids Private Tour
---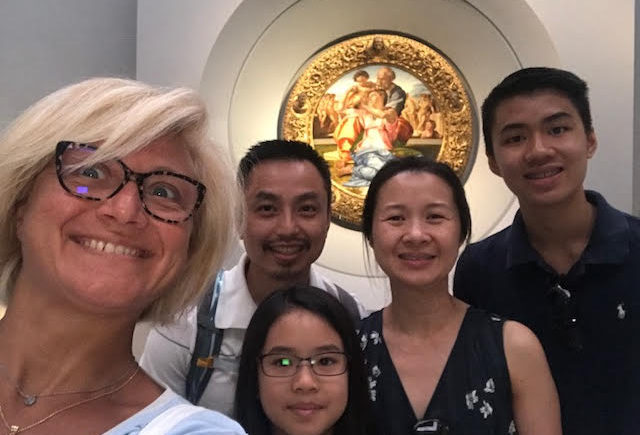 ---
LivTours has put the fun in family museum visits with this exclusive Uffizi for Kids Private Tour! You certainly want to make the most of your visit to this extraordinary museum filled with Italian Renaissance art, and there is no better way to do this than in the company of a private family-friendly guide with a treasure hunt to keep the little ones entertained. Experts make art come alive, and LivTours family guides are also experts at developing a rapport to make learning fun on this Uffizi tour for kids.
You will enjoy LivTours priority entrance into the museum, which means no waiting in line, key when traveling with young ones. Once you are inside, let the games begin as the treasure hunt starts and kids need to listen carefully not to miss the clues or solve the riddles. You and your family will discover the hidden secrets and learn about the world-famous art collection as you walk through the elegant rooms of the Uffizi with your private kid-centric tour guide and LivTours fun and educational Uffizi treasure hunt – complete with map, riddles, and colorful pens!
BOOK NOW
---
Visit the Uffizi Gallery on a kid-centric private tour - perfect for the whole family

Enjoy LivTours exclusive treasure hunt & learn about the Renaissance in Florence

Prepare to learn and have fun on this interactive tour for kids and adults alike

Experience LivTours exclusive priority access and skip waiting on long lines

Revel in the luxury of an expert family friendly private guide to bring art to life
BOOK NOW
Exclusive private Tours and Experiences. Also offered in Spanish, French, Portuguese, Swedish and Russian
Our prices always include tickets and reservations fees (no waiting in lines!)
Our tour guides and staff are selected experts and speak perfect English
Easy to book and prepay your tours with our secure payment system
Eco-sustainable tourism, designed to respect and support local culture, art and traditions
---
LivTours Uffizi for Kids Private Tour begins in the outdoor museum of the enchanting square of Piazza della Signoria, just a stone's throw from the Uffizi Gallery. After meeting your guide, they will give you a short introduction to the area around you while they get to know your children a bit better and form a rapport with them.  Every child on the tour will get their own Treasure Hunt Kit that includes: a map, a questionnaire, and colorful pens. The adventure begins with priority entrance, which means no waiting in lines for you and your family! This is a key feature for any traveler, but especially those traveling with children who have a difficult time with patience and waiting!  Once you are in the Uffizi Gallery Museum, kids and adults will need to listen carefully and keep their eyes wide open to not miss a clue! The clues and answers to the riddles will be revealed as your guide shares the highlights with you on this private Uffizi for Kids tour.
LivTours has chosen to focus on the highlights, but also the unusual to capture the imagination of little visitors while giving them a solid understanding of what they have seen.  You will be pleasantly surprised by the amount of information they retain! Your private guide will tell you about secret passageways linking the Museum to other nearby buildings and all about the powerful family that ruled Florence for centuries. It is thanks to the Medici family that you will be able to enjoy some of the most famous works of art in the world.
The Uffizi for Kids focuses on the most important pieces of this once private collection, so be prepared to be amazed by masterpieces by Botticelli, Leonardo Da Vinci, and many more during this tour.  All the family will get involved as you try to find the 500-year-old symbols, signs, and clues to the treasure hunt. Your family-friendly guide will be telling you about the paintings, but also share the many secrets behind the paintings and fun stories that will bring art to life. Is it really true that Venus was formed out of the ocean? Or did she emerge out of cookie dough? Those questions and more will be answered on your Uffizi for kid's tours.
As your tour reaches its conclusion, you and your family will have solved all the mysteries and learned a great deal about the Italian Renaissance. Every child will get a memorable prize for the great investigation work that will complete on this tour!
Come join a fun, educational, and kid-friendly tour that does away with overwhelming art museum visits and brings art to life for the young and old alike!
BOOK NOW
---
LivTour's exclusive Treasure Hunt Material & Gift

Skip-the-line access into the Uffizi

Major Highlights of the Uffizi Gallery

Botticelli, Leonardo, Michelangelo & Raphael
BOOK NOW
---
There is no photography allowed in some or all areas of this tour.

Backpacks are not permitted in the museum.

This tour material is designed for children from ages 5 – 10 years old. If older children are also present, our guides are capable and ready to adapt material and tour's content.

Due to these unprecedented times and ongoing safety and regulation changes, some sites may have limited accessibility if the venue can not guarantee social distancing which may lead to unforeseen tour modifications. Thank you for your understanding.

LivTours' is and always has been based on sustainable travel and especially in these new times, we are proud to be at the forefront of innovation, change, and challenges that are presented to us during this post-pandemic time. At the moment, due to Covid-19 safety regulations, museums and sites visited on this tour require wearing a mask while on site. Please bring one for every participant over 6 years of age.
BOOK NOW
---
When you book a LivTours Private Tour or Experience, you are guaranteed a dedicated, expert guide that allows you the flexibility to start your tour at a time which is convenient for you, making planning easy. Our private tours ensure that you will get a tailored experience to meet all your needs so we go at your pace, perfect for families with younger children, elderly, or individuals with accessibility needs. Please be advised that all private tours begin at a base price starting at two people*. Prices are inclusive of entry tickets where applicable.*Our Tuscan motorcycle tour and some Ferrari private experiences are inclusive of one person only.
BOOK NOW
---
Make your day even more unique and comfortable by upgrading your tour with a customizable LivTours optional add on!
BOOK NOW
---
Would recommend to any family
"Sara was great. There was a slight delay but she rolled with it. She kept the kids engaged and interested. She was funny and upbeat. Would recommend her to any families with young kids traveling to Florence. "
Ashley
---
Really the best family experience ever
"My wife and I just had to see the masterpieces at the Uffizi while in Florence but with 2 preteens it would have been quite the challenge. Intead, thanks to this family tour offered by LivTours, we ALL had the greatest time and went away with amazing memories. Raffaela was our guide and she had lots of really fun things planned to keep the kids entertained and really, actively looking at the artwork: whether it was to try to find something "hidden" in the painting or listen and learn about the artist and why (or how) he painted the way he did. We adults learned all sorts of great facts as well and were able to look at the masterpieces in a whole different light, thanks to Raffaela's stories and insights. It was a great time for all!!"
Robyn - Ireland
---
A great family tour
"Our family (3 kids: 7, 9, 11) was in Florence for a week so we researched as many family-oriented activities as possible so that the trip would mean more to the kids. We booked a couple of LivItaly's tours and were extremely happy with them. The Uffizi gallery would be asking alot of the children but my husband and I didn't want to miss out on the chance to see so many masterpieces "in person". On our family tour with Francesca, the kids were interested and entertained from beginning to end. She had projects for them to do, things for them to try to find in the paintings that made it so much more meaningful for them. She told great stories about the artists that had us all enthralled. In the end, the kids all felt that the Uffizi was actually quite a great place. What more could we ask? "
Awa - Australia
---
BOOK NOW
---
By selecting Choose Dates Later / Buy as Gift at booking, any tour can be purchased without fixed dates. This is the perfect option if you want to purchase your tour as a gift for a loved one, or if you are in the pre-planning phase of your vacation. After booking, you will receive a Travel Voucher Code and full instructions on how to schedule your tours when ready. Once your travel plans are confirmed, you can easily use the Travel Voucher Code on the LivTours website to formally schedule your tours. You can find out more here.
BOOK NOW