Family Experiences | Private British Museum Tour For Kids
---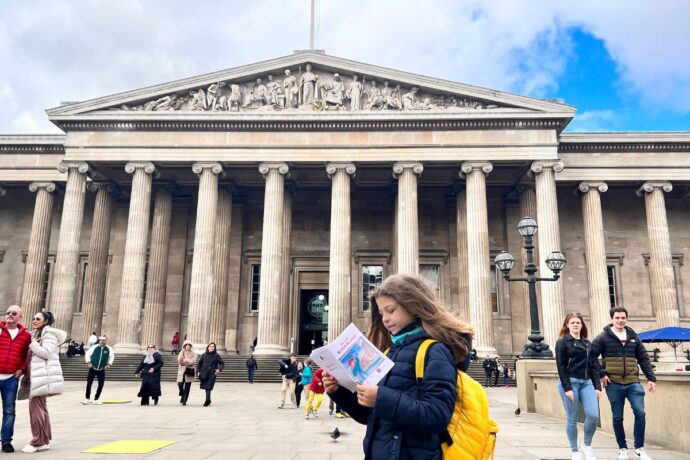 ---
Discover the exciting historical artifacts held within the impressive halls and galleries of the British Museum on this adventure-filled, private British Museum Tour for Kids with an engaging activities book full of fun games and challenges, with prizes to be won! One of the most famous museums in the world, the British Museum was built along the same, awe-inspiring dimensions as the Parthenon.
Enter the atrium through the vast Corinthian columns that frame the imposing entrance and embark on a quest to find the museum's many treasures and uncover ancient mysteries, from Egyptian mummies to the Parthenon marbles!
BOOK NOW
---
Experience a family-friendly tour of the famous British Museum

Explore the highlights of the vast collection with fun activities for the kids

See the mummies of Ancient Egypt and sculptures from Rome & Greece

Discover the treasures of Sutton Hoo, see the Easter Island Head

Admire the Rosetta Stone and world-famous Parthenon marbles
BOOK NOW
Exclusive private Tours and Experiences. Also offered in Spanish, French, Portuguese, Swedish and Russian
Our prices always include tickets and reservations fees (no waiting in lines!)
Our tour guides and staff are selected experts and speak perfect English
Easy to book and prepay your tours with our secure payment system
Eco-sustainable tourism, designed to respect and support local culture, art and traditions
---
On this family-friendly, British Museum Tour for Kids, you will explore the highlights of the world-famous collection of ancient treasures housed within the grand halls and galleries of the renowned British Museum.
The British Museum is a grand, imposing building, situated in the heart of London, and constructed along the same style and dimensions as the Greek Parthenon. Equipped with an interactive book filled with fun activities to help your kids make the most out of the museum and engage with its dazzling and fascinating collection of ancient treasures, your expert private guide will show you the highlights of this vast collection from all over the ancient world.
You'll learn about how to translate the Rosetta Stone, what it says – and what it tells us about life and trade in the ancient world. You'll be able to see the incredible mummies from ancient Egypt and learn all about their burial rituals, beauty standards, and belief system – with an array of fascinating gods and goddesses and stunning artwork.
You'll also discover the findings from the Sutton Hoo ship, including the famous helmet—a discovery that revealed a far more sophisticated society existed in the early middle ages than we first thought – with intricate weapons, jewelry, and shipbuilding techniques.
Explore fascinating marble statues from Ancient Greece and Rome, and see the Lewis Chessmen and the amazing Easter Island head. Your extraordinary tour of the British Museum – through ancient lands like Egypt, Persia, and Mesopotamia – ends with a stunning look at the Parthenon marbles. The museum was originally built to house these ancient sculptures brought over from Greece by Lord Elgin, and you'll hear all about the controversy surrounding them. Learn about the goddess Athena to whom the city of Athens and Parthenon Temple was dedicated and admire the incredible skill of the ancient sculptors as you discover the warring centaurs and graceful Caryatids!
Your adventures through the British Museum will end at the Parthenon Marbles. From here your guide will show you the bookshop and cafe, and the exit. You can choose to stay and explore further or step back outside into the bustling streets of London.
BOOK NOW
---
Private tour guide

Actives book and prizes

Highlights of the British Museum

Rosetta Stone

Parthenon Marbles

Egyptian mummies

Greek and Roman statues

Sutton Hoo

Lewis Chessmen

Easter Island Head
BOOK NOW
---
This activity booklet is designed for children from ages 5 – 10 years old and is perfect for mixed age families.
BOOK NOW
---
LivTours' group size of max 6 participants is and always has been based on sustainable travel, and we are proud to be at the forefront of change and innovation in the industry.  LivTours is committed to providing travelers with truly sustainable tours with the lowest possible environmental impact, all while supporting the local industries and people of each unique destination. To learn more about how you can actively support sustainable tourism  and how LivTours is contributing, click here.
BOOK NOW
---
When you book a LivTours Private Tour or Experience, you are guaranteed a dedicated, expert guide that allows you the flexibility to start your tour at a time which is convenient for you, making planning easy. Our private tours ensure that you will get a tailored experience to meet all your needs so we go at your pace, perfect for families with younger children, elderly, or individuals with accessibility needs. Please be advised that all private tours begin at a base price starting at two people*. Prices are inclusive of entry tickets where applicable. *Some Ferrari private experiences are inclusive of one person only.
BOOK NOW
---
Make your day even more unique and comfortable by upgrading your tour with a customizable LivTours optional add on!
Select your Transfer Option
BOOK NOW
---
By selecting Choose Dates Later / Buy as Gift at booking, any tour can be purchased without fixed dates. This is the perfect option if you want to purchase your tour as a gift for a loved one, or if you are in the pre-planning phase of your vacation. After booking, you will receive a Travel Voucher Code and full instructions on how to schedule your tours when ready. Once your travel plans are confirmed, you can easily use the Travel Voucher Code on the LivTours website to formally schedule your tours. You can find out more here.
BOOK NOW