Express Milan Last Supper Tour | Semi-Private Experience
---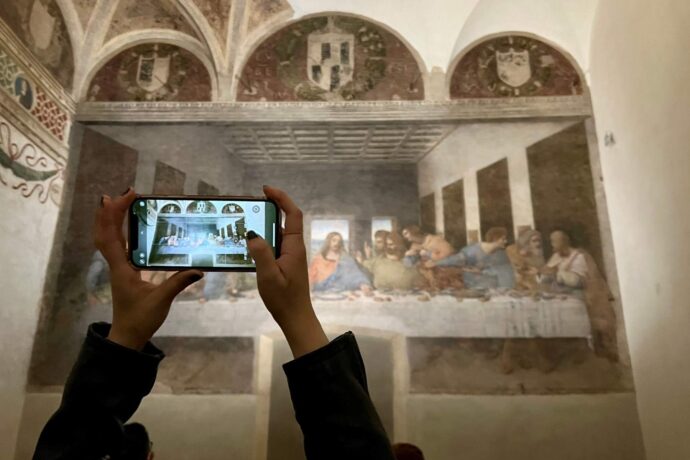 ---
LivTours' Milan Last Supper Tour is the perfect option if you want to maximize your time in this northern cosmopolitan city.  With an expert local guide, you will see one of the most coveted paintings in Italy while enjoying their knowledgeable commentary as they tell you about da Vinci's techniques and the history behind this commission.  This tour is designed for you if you want to go directly and only to Leonardo da Vinci's Last Supper painting, giving you a full day ahead to explore the city of Milan however you choose.
BOOK NOW
---
Maximize your time in Milan with this express semi-private tour with expert guide

Admire Leonardo da Vinci's Last Supper in exclusive limited-access viewing

Explore the late Gothic architecture of the building which holds the Last Supper

Revel in the luxury of priority access to one of the world's most prized masterpieces

Learn about the amazing mastermind behind this great work - Leonardo da Vinci
BOOK NOW
Semi-Private tours and experiences are guaranteed six participants max.
Our prices always include tickets and reservations fees (no waiting in lines!)
Our tour guides and staff are selected experts and speak perfect English
Easy to book and prepay your tours with our secure payment system
Eco-sustainable tourism, designed to respect and support local culture, art and traditions
---
Your LivTours Semi-Private Express Milan Last Supper Tour provides you with priority access to  Leonardo da Vinci's masterpiece. Your LivTours guide will give you an in depth explanation of this stunning work and a chance to see it up close. You will meet your guide just outside the refectory of the former Dominican convent of Santa Maria delle Grazie which is home to the Last Supper. Your expert guide will go into detail explaining the genius behind this masterpiece that once decorated one of the dining room walls of this convent.
The room which houses this masterpiece holds a limited amount of people, so you and a handful of visitors will enjoy an exclusive viewing. LivTours has especially designed this tour in a way that allows you to spend as much time as possible admiring the painting without any distractions. Your guide will give you as much information as possible beforehand, so upon entry you can fully enjoy the wonder of this work of art.
da Vinci's Last Supper, known for its intricate detail and masterful precision,  captures a key moment of Jesus and his disciples when Christ reveals he will soon be betrayed by one of his own. Leonardo da Vinci, considered a true Renaissance man, was not only a painter but mastered a gamut of disciplines which can all be seen in this fresco. Your guide will share with you da Vinci's geometric composition with Christ as the central figure, and the artist's choice of diagonal positioning of all of his disciples provides the illusion of connecting Christ visually with them.
Historians have also discovered a musical composition hidden in this very painting, a 40-second hymn which when interpreted sounds something like a requiem. This genius piece of work is not only something to be seen but to those with a more discerning eye, something to be heard as well.
LivTours' Milan Last Supper Tour is an ideal way to get an on-the-go look at one of Italy's finest works of art in one of the most important art cities in Italy.
BOOK NOW
---
Often hard to find museum entrance tickets

Priority access to da Vinci's Last Supper

Full guided explaination before entering

Free time to enjoy the Last Supper
BOOK NOW
---
All LivTours Semi-Private Group Tours are limited to 6 guests per tour guide. Our commitment to maintaining our uniquely tiny group sizes can sometimes be a little tricky, mathematically speaking. For example, we want to ensure that traveling families and friends can tour together so on rare occasions we may add one or two guests in order to not split groups. On that same note, you may also find yourself on tour with less than six people! We thank you for your understanding and flexibility.
BOOK NOW
---
A must see!
"Just passing through Milan on our way down to Rome and further south but we did want to stop to see the Last Supper. We booked the tour so that we wouldn't have to worry about tickets or wait in line or any of the other troublesome parts of traveling. What's more, we definitely appreciated the information and insight that our guide was able to give us as we admired this famous work. Since this is something you need to see at least once in your lifetime, do yourself a favour and book this tour!"
Norm - Sweden
---
Last Supper
"It was definitely worth it to be able to skip the line to see the Last Supper. Raffaela was a wonderful guide and everyone in the family agreed this was definitely one of the highlights of our trip."
Leslie - USA
---
Amazing to experience the Last Supper with Paivi
"We had a great time in Milan seeing the Last Supper. Paivi was our guide and she was amazing. We were in a small group so we could ask all the questions we wanted and she was great at answering every single one. A very memorable experience"
Lennie - Netherlands
---
BOOK NOW
---
By selecting BUY AS A GIFT, you can purchase this tour as a gift for someone you care for. You will receive a gift card voucher that then can be redeemed by the person/people who will enjoy the tour.Date and Time are values that cannot be selected at the moment. You will in fact receive a gift card voucher with instructions on how to redeem the tour and then select date and time.You can create a shopping cart with multiple tours as gift cards. You may not compose a shopping cart of gift cards and actual tours with date and time.This option can also be used as an opportunity to book a tour open-dated for yourself, in case you are still in the pre-planning phase of your trip.For more information please read here.
BOOK NOW