Exclusive Private Pompeii Tour: Highlights of the City of the Dead
---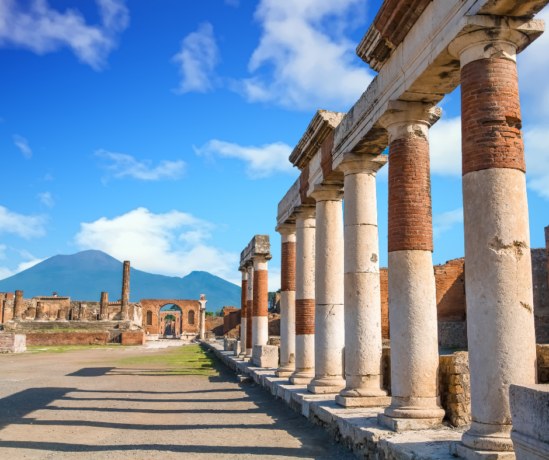 ---
LivTours' Exclusive Private Pompeii Tour is perfect if you are fascinated with the history of this amazing Ancient Roman province that was once destroyed by the explosion of nearby Mt Vesuvius. Pompeii is undoubtedly one of Italy's most well preserved archaeological sites, and worth a visit for every Italy & history lover.
The city was a typical ancient Roman village founded in 80 BC until a sudden eruption of Mount Vesuvius in 79 AD buried Pompeii under 6 meters of ash and wiped it off the map entirely for over a millennial. It was rediscovered in 1599 and declared a UNESCO World Heritage Site in 1997. The site spans over 163 acres, with 42 acres still to be excavated – having a knowledgeable guide by your side is essential.  Discover the story behind the life and times of this ancient port town and the modern-day excavations which have helped bring it back to life!
BOOK NOW
---
Learn about how Mount Vesuvius destroyed an entire thriving population

Enjoy exclusive LivTours direct skip-the-line access with no waiting on line

Marvel at the incredible mosaics in lavish houses of prominent residents of Pompeii

Learn from a LivTours expert guide, who is also a trained & active archaeologist

Discover the incredible story behind the life and times of this ancient port town
BOOK NOW
Exclusive private Tours and Experiences. Also offered in Spanish, French, Portuguese, Swedish and Russian
Our prices always include tickets and reservations fees (no waiting in lines!)
Our tour guides and staff are selected experts and speak perfect English
Easy to book and prepay your tours with our secure payment system
Eco-sustainable tourism, designed to respect and support local culture, art and traditions
---
Your LivTours Private Pompeii Tour will start by meeting your private guide – be sure to share your interests and curiosities about the excavation site so that your guide can incorporate those into your tour. You will enjoy priority access to Pompeii, maximizing your time with your guide.
LivTours has carefully chosen a team of guides for your private Pompeii experience, many of whom are archaeologists or part of the first excavation teams. As insiders, they can share with you some of the most amazing anecdotes, discoveries, and stories about Pompeii and its surroundings. Your tour starts with your guide sharing with you what a day in the life of a resident of Pompeii was like before the eruption; giving you an important link to life in ancient Rome.
The ancient Romans were the forerunners of craftsmanship and engineering and you will get to see this firsthand by visiting the Roman baths and the town's water system; including their sewage system construction, which is still studied today. At Pompeii's heyday, many European citizens outside of the Roman Empire were still living in basic structures, making the amazing mosaics, murals, centrally heated public baths, and saunas seemingly well ahead of their time.
Stroll through the Pompeii Forum, the heartbeat of this once port trading town while your guide explains where residents lived, worked, and found their entertainment. As an active port town, Pompeii had its share of wealthy merchants who lavishly decorated their homes with frescos, mosaics, and the latest architectural designs. Your guide will make sure you get to see the best of them, as well as the two most popular attractions – the House of Sallust and the House of Julia Felix, perfect examples of Pompeii residential structures.
By the end of your private tour, you will have a clear picture of what the streets looked like on that decisive day 2000 years ago when Mt Vesuvius unexpectedly erupted. Throughout your tour, your archaeological guide will help you understand the chaos that reigned on the streets with people and horses trying to flee along the stone-slabbed roads to no avail. LivTours Private Pompeii Tour gives you a unique look at a true archaeological gem, an extraordinarily preserved peek into ancient history.
UPGRADE YOUR TOUR BY ADDING A WINE TASTING & LUNCH AT A LOCAL VINEYARD
Make your day extra special by adding on a wine tasting and lunch at a family-owned Pompeii winery.
If you want to see a bit more of the area near Pompeii, why not add on a visit to a nearby family-run vineyard set in the Vesuvian hills? Your archaeological guide will leave you with your private chauffeur who will whisk you away to the vineyard. Starting as a winemaking hobby three generations ago, by the family's grandfather, this vineyard is rooted in tradition and produces exceptional wines that somehow seem to capture the aromas of southern Italy in a glass. The generations that run it today are turning their grandfather's dreams into reality.
Upon arrival, you will be met by one of the vineyard guides and given a tour explaining the bio-dynamic techniques used in production, as well as some of the ancient Roman techniques that are employed in their current production, such as terracotta amphora containers. Get a glimpse of the wine cellar, the vineyards, and even an excavation site right on the property – this is Pompeii after all!
Wine and food always go together in Italy, after enjoying a wine tasting of three local wines, you will enjoy a light three-course meal. Enjoy the moment and revel in the stories, the landscape, and, of course, the wine of this third-generation vineyard.
Once your tour, wine tasting, and lunch is done, your private chauffeur will take you back to the entrance of the Pompeii excavation site from which you started.
BOOK NOW
---
Skip the line into Pompeii site

Fully guided tour

Pompeii theatre

Forum of Pompeii

Roman bath house

House of Sallust

House of Julia Felix

Mt Vesuvius view
BOOK NOW
---
Pompeii is an ongoing excavation site. The suggested itinerary might encounter some changes depending on the archaeologist's daily duties.
Offered in: English, French, Spanish, Portuguese, and Italian. Please specify under "Additional notes" if you wish to book the tour in a language other than English.
BOOK NOW
---
LivTours' group size of max 6 participants is and always has been based on sustainable travel, and we are proud to be at the forefront of change and innovation in the industry.  LivTours is committed to providing travelers with truly sustainable tours with the lowest possible environmental impact, all while supporting the local industries and people of each unique destination. To learn more about how you can actively support sustainable tourism  and how LivTours is contributing, click here.
BOOK NOW
---
When you book a LivTours Private Tour or Experience, you are guaranteed a dedicated, expert guide that allows you the flexibility to start your tour at a time which is convenient for you, making planning easy. Our private tours ensure that you will get a tailored experience to meet all your needs so we go at your pace, perfect for families with younger children, elderly, or individuals with accessibility needs. Please be advised that all private tours begin at a base price starting at two people*. Prices are inclusive of entry tickets where applicable. *Some Ferrari private experiences are inclusive of one person only.
BOOK NOW
---
Make your day even more unique and comfortable by upgrading your tour with a customizable LivTours optional add on!
Round Trip Dedicated Chauffeur Options
BOOK NOW
---
LivTours Pompeii Private Pompeii Tour: Highlights of the City of the Dead
"Our LivTours guide was awesome. She was full of knowledge, and was an amazing leader of our group. She did a great job engaging all of us and keeping us interested. She did a good job at keeping the group together and making sure we could all hear her. We changed our private tour to only visit Pompeii."
Keith M - United States
---
Cannot thank you enough!
"We cannot thank you enough for all of your help planning our travels in Rome, Pompeii and the Amalfi coast. Everyone was on time, friendly and made our travels seamless and easy. "
Maureen
---
Fascinating Pompeii
"We thoroughly enjoyed our Private Pompeii walking tour with Livitaly Tours. We did the private tour because we booked last minute but our experience with Livitaly is that their small group tour would have been just as good. Our guide was friendly and knowledgeable. I had been to Pompeii once before years ago but I learned much more on this tour. We have taken multiple tours with Livitaly and all have been great. There is of course a lot of walking on this tour but worth the effort. One of the best ways to see and learn about the tragic end of this city and what life in ancient times would have been like."
Wayne - USA
---
BOOK NOW
---
By selecting Choose Dates Later / Buy as Gift at booking, any tour can be purchased without fixed dates. This is the perfect option if you want to purchase your tour as a gift for a loved one, or if you are in the pre-planning phase of your vacation. After booking, you will receive a Travel Voucher Code and full instructions on how to schedule your tours when ready. Once your travel plans are confirmed, you can easily use the Travel Voucher Code on the LivTours website to formally schedule your tours. You can find out more here.
BOOK NOW