Evening SoHo London Food Tour | Semi-Private
---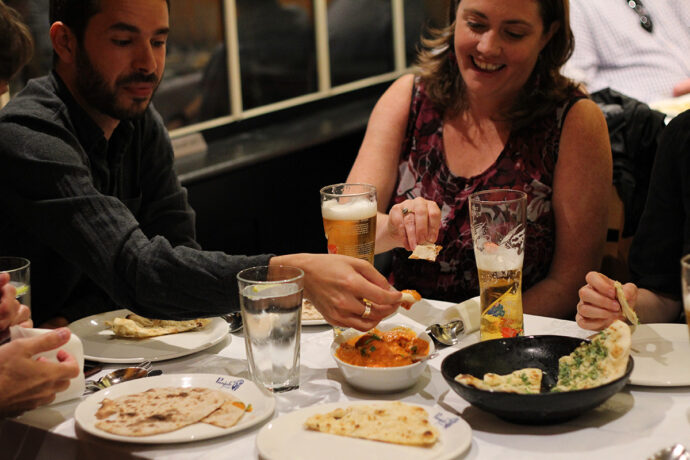 ---
Eat, drink, and be merry on your Livtours Semi-Private SoHo London Food Tour. As the day draws to an end, follow a local Londoner through the maze of lamplit streets for an evening of local and exotic tastes. Visit five different locations, each unique in its own way, tasting a wide range of the best dishes and beverages London has to offer from home and afar. Soho is the beating heart of London's city center and comes alive at night— there is no better way to see this web of bustling streets than with a LivTours expert guide.
Come and taste foods from all over the world that have made their way into the history and fabric of British cuisine. From its historic links with the far east, to rule over India and immigration from all four corners of the globe, SoHo is the melting pot of the British Empire and home to countless languages and cultures. Dip your fork into that melting pot and enjoy the must-taste treats on any visit to London. From traditional and comforting Pie and Mash, local legend Fish and Chips, and exotic beloved curries to Chinatown's famous dumplings. Circumnavigate the world with your expert foodie and London guide on your Semi-Private SoHo London Food Tour.
BOOK NOW
---
Discover London's legendary nightspot SoHo with an expert guide by your side

Visit 5 locations offering food from all over the world as well as British classics

Join a local and eat like a londoner and discover one of the worlds culinary capitals

Taste some of the best local food and drink with small groups of maximum 6 people

Learn about the fascinating history of British food, the empire and the city of Londo
BOOK NOW
Semi-Private tours and experiences are guaranteed six participants max.
Our prices always include tickets and reservations fees (no waiting in lines!)
Our tour guides and staff are selected experts and speak perfect English
Easy to book and prepay your tours with our secure payment system
Eco-sustainable tourism, designed to respect and support local culture, art and traditions
---
Your Livtours Semi-Private Evening SoHo London Food Tour is the perfect way to relax, enjoy, and feast on all of the best things the city of London has to offer, from ticking the box on local classics to exotic new tasting sensations to write home about. Combine a must-see evening in SoHo with a delicious exploration of the world on your delicious trip through the decadent and culinary center of the city. Your expert local tour guide will begin by introducing the fantastic and exciting district of SoHo before leading you into the night to sample incredible dishes from five locations.
SoHo is famed for its nightlife, from romantic dinners to big nights out, one can find anything in this bustling and charming district. SoHo is a mix of neighborhoods in one: at once the world-famous west end and its top shows, late-night casinos, Londons Chinatown, the fashion music, and the LGBTQ center of London. With the entire city descending on this district when the sun goes down, it is famed for its restaurant scene. London has a long imperial past as the capital of the British empire, with huge waves of new cuisines coming back with explorers, sailors, and immigrants. The city boasts one of the world's best food scenes and is currently experiencing a renaissance in its cuisine. Now Indian Curry is as British as Fish and Chips and Honkonese dumplings are as popular as pie and mash.
Taste a range of fantastic dishes cooked by top chefs and learn about the history of the dishes, the city they come from, and how London has become the home of some of Europe's best food.
BOOK NOW
---
5 different stops in SoHo

Beer and wine to accompany

Groups of 6 people maximum

Fully guided experience
BOOK NOW
---
LivTours' group size of max 6 participants is and always has been based on sustainable travel, and we are proud to be at the forefront of change and innovation in the industry.  LivTours is committed to providing travelers with truly sustainable tours with the lowest possible environmental impact, all while supporting the local industries and people of each unique destination. To learn more about how you can actively support sustainable tourism  and how LivTours is contributing, click here.
BOOK NOW
---
All LivTours Semi-Private Group Tours are limited to 6 guests per tour guide. Our commitment to maintaining our uniquely tiny group sizes can sometimes be a little tricky, mathematically speaking. For example, we want to ensure that traveling families and friends can tour together so on rare occasions we may add one or two guests in order to not split groups. On that same note, you may also find yourself on tour with less than six people! We thank you for your understanding and flexibility.
BOOK NOW
---
Food tour in SoHo
"There was just one other couple in our group for the food tour in SoHo. Our guide, Jessica, was just charming and very interesting to chat with. Enjoyed a delicious dinner with varied dishes. It was a very enjoyable evening and will recommend this tour to everyone we know coming to London. "
Albert - Swtizerland
---
Strongly recommend
"This London food tour is very good. We were in a group of 4 so lots of friendly, enjoyable interaction between us. Our guide was a charming young lady named Mary who we were able to get to know during the course of our dinner. SoHo is a great place to hold the tour because it is the center of food and entertainment, very lively and exciting. All in all, a great way to spend an evening while in London."
Roger K. - USA
---
Lots of food and laughs
"We visited London with another couple of friends. On this tour, there was a third couple also so 6 of us in all. The guide took us around the SoHo area and then we stopped to try different dishes. Very interesting and tasty. Best part was the atmosphere within our little group and all the laughs we shared with our guide."
Brian - USA
---
BOOK NOW
---
By selecting Choose Dates Later / Buy as Gift at booking, any tour can be purchased without fixed dates. This is the perfect option if you want to purchase your tour as a gift for a loved one, or if you are in the pre-planning phase of your vacation. After booking, you will receive a Travel Voucher Code and full instructions on how to schedule your tours when ready. Once your travel plans are confirmed, you can easily use the Travel Voucher Code on the LivTours website to formally schedule your tours. You can find out more here.
BOOK NOW