Evening SoHo London Food Tour | Semi-Private
---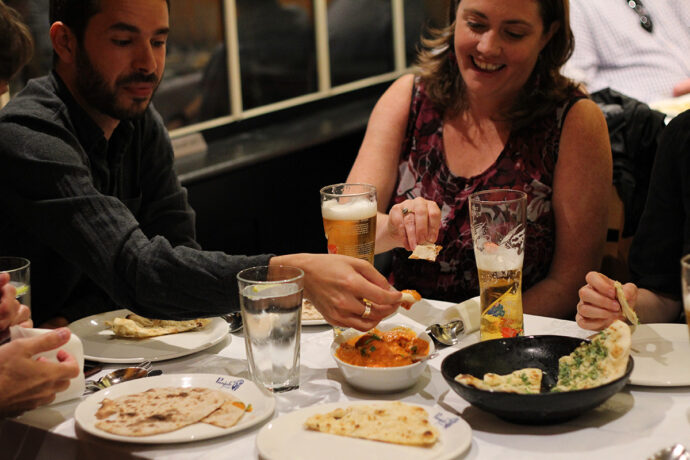 ---
Eat, drink, and be merry on your Livtours Semi-Private SoHo London Food Tour. As the day draws to and an end, follow a local Londoner through the maze of lamplit streets for an evening of decadent dining. Indulge in a 5-course meal with plenty to eat and drink, tasting a wide range of the best dishes and beverages London has to offer from home and afar. Soho is the beating heart of London's city center and comes alive at night there is no better way to see this maze of bustling streets than with an expert guide.
Come and taste the dishes from all over the world that have made their way into the history and fabric of British cuisine. From its historic links with the far east, to rule over India and immigration from all four corners of the globe SoHo is the melting pot of the British Empire and home to countless languages and cultures. Dip your fork into that melting pot and enjoy the must taste treats on any visit to London. From traditional and comforting Pie and Mash, local legend Fish and Chips, exotic and beloved curries to Chinatowns famous dumplings. Circumnavigate the world with your expert foodie and London guide on your Semi-Private SoHo London Food Tour.
BOOK NOW
---
Discover London's legendary nightspot SoHo with an expert guide by your side

Dine in over 5 locations on food from all over the world as well as British classics

Join a local and eat like a londoner and discover one of the worlds culinary capitals

Taste some of the best local food and drink with small groups of maximum 6 people

Learn about the fascinating history of British food, the empire and the city of Londo
BOOK NOW
Semi-Private tours and experiences are guaranteed six participants max.
Our prices always include tickets and reservations fees (no waiting in lines!)
Our tour guides and staff are selected experts and speak perfect English
Easy to book and prepay your tours with our secure payment system
Eco-sustainable tourism, designed to respect and support local culture, art and traditions
---
Your Livtours Semi-Private Evening SoHo London Food Tour is the perfect way to relax, enjoy and feast on all of the best things the city of London has to offer, from ticking the box on local classics to exotic new taste sensations to write home about. Combine a must-see evening in SoHo with a delicious exploration of the world on your delicious trip through the decadent and culinary center of the city. Your expert local tour guide will begin by introducing the fantastic and exciting district of SoHo before leading you into the night to sample incredible dishes from over 5 locations.
SoHo is famed for its nightlife, from romantic dinners to big nights out, one can find anything in this bustling and charming district. SoHo is a mix of neighborhoods in one from the world-famous west end and its top shows, late-night casinos, Londons Chinatown, and the fashion music and LGBTQ center of London. With the entire city descending on this district when the sun goes down, it is famed for its restaurant scene. London has a long imperial past as the capital of the British empire, with huge waves of new cuisines coming back with explorers, sailors, and immigrants the city boasts one of the best world food scenes as well as experiencing a renaissance in its own cuisine. Now Indian Curry is as British as Fish and Chips and Honkonese dumplings are as popular as pie and mash.
Taste a range of fantastic dishes cooked by top chefs and learn about the history of the dishes, the city they come from, and how London has become the home of some of Europe's best food.
BOOK NOW
---
5 course meal in SoHo

Beer and wine to accompany

Groups of 6 people maximum

Fully guided experience
BOOK NOW
---
Due to these unprecedented times and ongoing safety and regulation changes, some sites may have limited accessibility if the venue can not guarantee social distancing which may lead to unforeseen tour modifications. Thank you for your understanding.

LivTours' group size of max 6 participants is and always has been based on sustainable travel and especially in these new times, we are proud to be at the forefront of the innovation, changes, and challenges that are presented to us during this post-pandemic time. At the moment, due to COVID-19 safety regulations, the museums and sites visited on this tour require wearing a mask while on the site. Please bring one for every participant over 6 years of age.
BOOK NOW
---
All LivTours Semi-Private Group Tours are limited to 6 guests per tour guide. Our commitment to maintaining our uniquely tiny group sizes can sometimes be a little tricky, mathematically speaking. For example, we want to ensure that traveling families and friends can tour together so on rare occasions we may add one or two guests in order to not split groups. On that same note, you may also find yourself on tour with less than six people! We thank you for your understanding and flexibility.
BOOK NOW
---
Covid-19
All of our tours and experiences are in compliance with the latest local Covid-19 safety protocols. More information can be found in the voucher you will receive upon booking your tour/s.
---
BOOK NOW