Evening SoHo London Food Tour | Private
---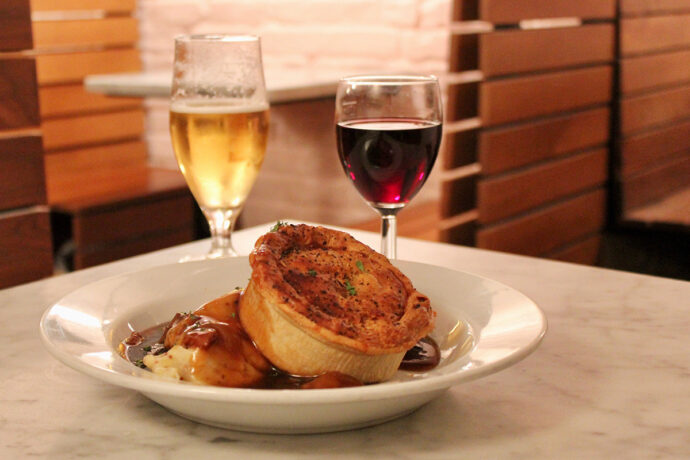 ---
Dig in and be bedazzled on your very own Livtours Private Soho London Food Tour. As the sun begins to set on the capital, be escorted through the beating heart of London's food, drink, and nightlife scene with your private local guide. Take full advantage of having your very own expert by your side as they lead you from restaurant to bar for an unforgettable evening in the city's most exciting places to eat. Wander through the labyrinth of lamplit streets, sampling the best of London on this multi-stop food tour. With plenty to eat and drink, you will taste a wide range of the best London has to offer, from local recipes to exotic imports.
Learn how this international city, once the capital of the Western world, developed a taste for things from far and wide and how the many groups of immigrants brought their cuisine to the city—reflected today in influences from Indian, Chinese, Italian, French, and Jewish cooking. SoHo is the melting pot of the British Empire, take a sip from that pot and taste must-try dishes on any trip to London. From the nation's favorite Indian curry, classic Pie and Mash, Honkenese dumplings, English beer, and local legend Fish and Chips. Circumnavigate the world with your expert foodie and London guide on your private food tour.
BOOK NOW
---
Eat, drink & discover London's legendary SoHo with your private expert food guide

Visit 5 locations and learn how food from across the world came to London

Join a Londoner and eat like a local on LivTours 2.5 hour food tour

Taste the best food and drink in London from pie & mash to Indian curries

Learn about how the city's history, the empire and war have affected British food
BOOK NOW
Exclusive private Tours and Experiences. Also offered in Spanish, French, Portuguese, Swedish and Russian
Our prices always include tickets and reservations fees (no waiting in lines!)
Our tour guides and staff are selected experts and speak perfect English
Easy to book and prepay your tours with our secure payment system
Eco-sustainable tourism, designed to respect and support local culture, art and traditions
---
Your Livtours Private Evening SoHo London Food Tour is a perfect way to see London's exciting historical nightlife neighborhood. With a personal expert at your side, you will taste a huge range of London classics, from must-have local legends to exotic and lesser-known British classics. Your local expert will begin your private tailored tour by introducing the history of the neighborhood, the origins of the food scene in London, and how to eat like a local. The area you will explore is famous amongst night owls, from intimate candle-lit dinners and all-night casinos to a bustling LGBTQ scene.
SoHo is a lively area where worlds collide. With all of London descending on this district littered with theaters, bars, and restaurants, your expert guide will lead you through the masses to the best and most beloved spots in the city. With London's long history as a center of commerce and trade, the wealthy of the city has always strived to eat and drink in the top spots, to see and be seen, and to always be one step ahead of the latest food trends. Follow your local as they show you how the Londoners dine, and the best spots in town. As the British Empire grew, the taste for new and foreign flavors became insatiable and the birth of British fusion was born. With waves of new ingredients coming back with migrants and navy vessels, the city is home to Europe's most exciting world food scene.
Learn more about how the empire influenced British food, how the war destroyed its reputation, and how now modern Londoners are bringing British food back to life, in this exciting capital city.
BOOK NOW
---
5 different British classics

Guided walk through SoHo

Beer and wine to accompany

Privately guided experience
BOOK NOW
---
LivTours' group size of max 6 participants is and always has been based on sustainable travel, and we are proud to be at the forefront of change and innovation in the industry.  LivTours is committed to providing travelers with truly sustainable tours with the lowest possible environmental impact, all while supporting the local industries and people of each unique destination. To learn more about how you can actively support sustainable tourism  and how LivTours is contributing, click here.
BOOK NOW
---
When you book a LivTours Private Tour or Experience, you are guaranteed a dedicated, expert guide that allows you the flexibility to start your tour at a time which is convenient for you, making planning easy. Our private tours ensure that you will get a tailored experience to meet all your needs so we go at your pace, perfect for families with younger children, elderly, or individuals with accessibility needs. Please be advised that all private tours begin at a base price starting at two people*. Prices are inclusive of entry tickets where applicable. *Some Ferrari private experiences are inclusive of one person only.
BOOK NOW
---
Make your day even more unique and comfortable by upgrading your tour with a customizable LivTours optional add on!
Select your Transfer Option
BOOK NOW
---
Entertaining food tour
"The SoHo area is quite interesting and exciting but we were happy that we had our guide, Mary, to show us precisely where to go and what dishes to try. She was very knowledgeable about the foods, the preparation and the ingredients of the various dishes and there was also plenty of time to chat about all sorts of other things. We spent a lovely evening and will tell everyone we know about this tour."
Charles - Netherlands
---
Great food tour in SoHo
"Richard was our guide for this food tour in SoHo and we were very pleased with both him and the tour. Glad to have someone to show us the best places and to explain the various dishes. We were stuffed by the end of the tour but happily so! Will recommend!"
Peter Jacobs - USA
---
Very enjoyable evening in SoHo
"My partner and I have taken food tours in almost every major foreign city we have visited. This evening tour in SoHo was right up there along with the best we have experienced! We tasted several different dishes and learned all about the origins and ingredients from a really interesting guide (can't remember his name, sorry) who was just as charming as he was funny. We both definitely recommend this food tour!"
Jerry and Pat - USA
---
BOOK NOW
---
By selecting Choose Dates Later / Buy as Gift at booking, any tour can be purchased without fixed dates. This is the perfect option if you want to purchase your tour as a gift for a loved one, or if you are in the pre-planning phase of your vacation. After booking, you will receive a Travel Voucher Code and full instructions on how to schedule your tours when ready. Once your travel plans are confirmed, you can easily use the Travel Voucher Code on the LivTours website to formally schedule your tours. You can find out more here.
BOOK NOW