Essence of Seville Private Walking Tour
---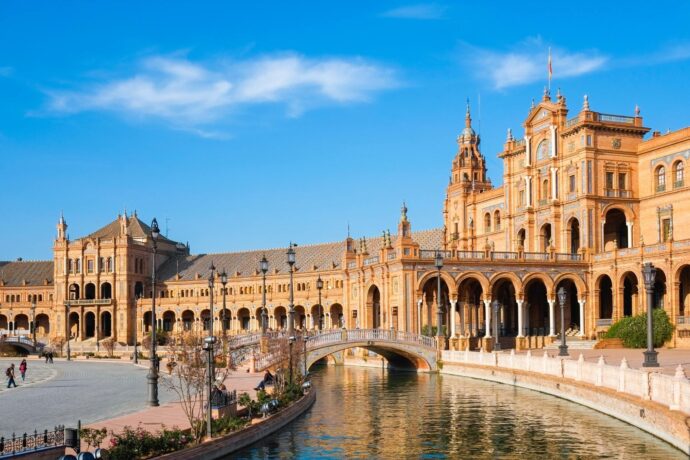 ---
Enjoy a wonderful 2.5 hour guided tour of all the places that encapsulate the essence of Seville, the beautiful, sunny capital of Andalusia. Known for its operatic heroine, Carmen, Seville oozes charm and history with its magnificent Mudejar, Gothic and Renaissance architecture, ancient Roman ruins and Moorish walls, and Baroque churches around every corner.
History blends with Seville's fabulous food scene and exotic Flamenco music, tranquil leafy parks and lively shopping streets. Your expert local private guide will meet you at your accommodation to show you the highlights of this majestic city.  
BOOK NOW
---
Enjoy the attention of your expert English speaking private guide

Discover the essence of Seville on this tour of the city highlights

Tour inside the stunning Seville Palace Casa de Pilatos - tickets included

See the cathedral, tobacco factory and majestic Plaza de Espana and more

Admire Seveille's magnificent architecture from ancient to modern
BOOK NOW
Exclusive private Tours and Experiences. Also offered in Spanish, French, Portuguese, Swedish and Russian
Our prices always include tickets and reservations fees (no waiting in lines!)
Our tour guides and staff are selected experts and speak perfect English
Easy to book and prepay your tours with our secure payment system
Eco-sustainable tourism, designed to respect and support local culture, art and traditions
---
Explore the essence of Seville – the stunning capital of Andalusia in southern Spain with your expert local private guide.
Your guide will meet you right at your hotel and walk you over to the first stop: the eccentric, hexagonal building known as Costurero de la Reina – the queen's sewing box! It was built in the late 19th century. Today it is the tourist information center. 
Set off for the Plaza de Espana – the central square of Seville, and justly famous for its magnificence! Designed in the 1920s it is a half circle with palatial buildings, accessible via footbridges over the large moat. In the center is the great Vicente Traver fountain. Designed by Anibal Gonzalez, it is a fusion of Art Deco, Renaissance and Baroque revival, and Neo Mudejar architectural styles. It is truly a jaw-dropping sight! Scenes from Lawrence of Arabia, Star Wars Episode II: Attack of the Clones, and The Dictator were filmed here. 
Admire the famous old tobacco factory – an enormous neoclassical edifice built 1728-1771 by order of the royal family. Out of 10,000 mostly female employees, the most famous was Carmen (of the opera)! She was known for her ability to roll cigars between her thighs. The factory was a mini-town, with its prison, nursery, and courthouse with 116 mills and stabling for 400 working mules. Today it is part of the University of Seville.
Next, you'll see the mighty Seville Cathedral from the outside. This is the largest Gothic cathedral in the world, built between 1401 and 1506 and designated a UNESCO World Heritage site. 
Tour inside La Casa de Pilatos, a gorgeous 15th-century palace, famous for its azulejo – beautiful glazed tiles, and collection of Greco-Roman statues. 
The Setas de Sevilla ("Mushrooms of Seville") provides a sharply modern contrast! Completed in 2011 for 50 million euros, it serves as a museum, market, viewing platform, and restaurant. Wander down the famous Calle Sierpes, a long and narrow shopping street before ending your tour outside the impressive Ayuntamiento de Sevilla building. 
BOOK NOW
---
Expert English speaking private tour guide

2.5 hour guided tour of Sevilla highlights

Casa de Pilatos tickets and guided tour

Setas de Sevilla

Ayuntamiento de Sevilla

Seville Cathedral (outside)

Plaza de Espana

Costurero de la Reina
BOOK NOW
---
LivTours' group size of max 6 participants is and always has been based on sustainable travel, and we are proud to be at the forefront of change and innovation in the industry.  LivTours is committed to providing travelers with truly sustainable tours with the lowest possible environmental impact, all while supporting the local industries and people of each unique destination. To learn more about how you can actively support sustainable tourism  and how LivTours is contributing, click here.
BOOK NOW
---
When you book a LivTours Private Tour or Experience, you are guaranteed a dedicated, expert guide that allows you the flexibility to start your tour at a time which is convenient for you, making planning easy. Our private tours ensure that you will get a tailored experience to meet all your needs so we go at your pace, perfect for families with younger children, elderly, or individuals with accessibility needs. Please be advised that all private tours begin at a base price starting at two people*. Prices are inclusive of entry tickets where applicable. *Some Ferrari private experiences are inclusive of one person only.
BOOK NOW
---
By selecting Choose Dates Later / Buy as Gift at booking, any tour can be purchased without fixed dates. This is the perfect option if you want to purchase your tour as a gift for a loved one, or if you are in the pre-planning phase of your vacation. After booking, you will receive a Travel Voucher Code and full instructions on how to schedule your tours when ready. Once your travel plans are confirmed, you can easily use the Travel Voucher Code on the LivTours website to formally schedule your tours. You can find out more here.
BOOK NOW