Express Early Morning Private Sagrada Familia Tour
---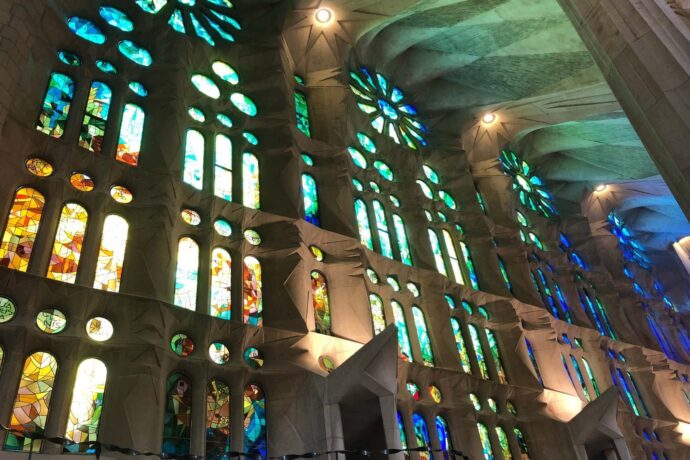 ---
LivTours Express Private Sagrada Familia Tour is an excellent way to see the most visited monument in Spain.  An early start means missing the crowds, enjoying the solitude of being some of the very first people to enter the basilica.  Your expert local guide will give you a more in-depth understanding of the unique architecture, the history behind this almost finished basilica as well as share the plethora of symbolism. Your guide will also allow you plenty of time to take photographs of the stunning stained glass window interior.
Your guide will be waiting for you just next to the very best vantage point for admiring the basilica from the ground.  A project that was started by a poor shopkeeper in the 1870s by collecting anonymous contributions, the basilica is entering its final stages of construction while still being built by private donations. You will find out who the first architect was and how Gaudi came to be in charge of one of the most admired buildings in the world. His creativity knew no bounds and the final construction will host 18 bell towers with the tallest one reaching the dizzying height of 187.5 meters, just over 6,000 feet. The interior is a jaw-dropping homage to the art of stained glass and architecture which broke the molds.
BOOK NOW
---
Enjoy skip the line early access entrance to Gaudi's masterpiece, la Sagrada Familia

Experience the luxury of a private tour with just your party and your expert guide

Marvel at the architectural details of la Sagrada Familia with your local expert guid

Discover Spain's most visited monument in this captivating 1.5 hour tour
BOOK NOW
Exclusive private Tours and Experiences. Also offered in Spanish, French, Portuguese, Swedish and Russian
Our prices always include tickets and reservations fees (no waiting in lines!)
Our tour guides and staff are selected experts and speak perfect English
Easy to book and prepay your tours with our secure payment system
Eco-sustainable tourism, designed to respect and support local culture, art and traditions
---
Your Express Private Sagrada Familia Tour begins with meeting your guide at the best vantage point for seeing the basilica from street level. The soft morning light is perfect for taking photographs of the most visited monument in Spain. Your expert guide will start your private visit by sharing with you the history of how the idea of a simple bookshop keeper became a reality over 150 years ago.
You will find out how Gaudi turned the first architect's plans on their head by depicting the story of The Bible on the façades of the basilica.  The façade showing the story of Jesus during his time on Earth hosts over 300 animals and people and faces East – the direction which is the start of every day. The opposite façade shows the story of Easter with the 12 biblical stories that lead up to the crucifixion and resurrection of Jesus. Your expert guide will tell you about the main façade, dedicated to the Final Judgment and the Glory of God, and why it is not yet decorated. Gaudi was a deeply religious man, using symbolism throughout his designs and your expert guide will give you greater insight into that symbolism, as well as the unique architectural feats.
Once inside, admire the tenuous morning light beaming through the colorful stained glass windows as you soak up the atmosphere of the magical stone forest created by Gaudi, along with engaging commentary from your 5-star guide on this marvellous creation. Come enjoy a morning of solitude and amazing architecture with LivTours!
BOOK NOW
---
Privileged early morning access

Intro of both Sagrada's History of exterior

Detailed explanation of the doors and entries

Sagrada Familia main floor
BOOK NOW
---
Offered in: English, French, Spanish, Portuguese, and Italian. Please specify under "Additional notes" if you wish to book the tour in a language other than English.

Places of worship have strict dress code requirements for entry. All participants are required to have shoulders and knees covered (no tank tops or short dresses) to enter.

Due to these unprecedented times and ongoing safety and regulation changes, some sites may have limited accessibility if the venue can not guarantee social distancing which may lead to unforeseen tour modifications. Thank you for your understanding.
BOOK NOW
---
When you book a LivTours Private Tour or Experience, you are guaranteed a dedicated, expert guide that allows you the flexibility to start your tour at a time which is convenient for you, making planning easy. Our private tours ensure that you will get a tailored experience to meet all your needs so we go at your pace, perfect for families with younger children, elderly, or individuals with accessibility needs. Please be advised that all private tours begin at a base price starting at two people*. Prices are inclusive of entry tickets where applicable.
*Our Tuscan motorcycle tour and some Ferrari private experiences are inclusive of one person only.
BOOK NOW
---
Make your day even more unique and comfortable by upgrading your tour with a customizable LivTours optional add on!
Add Sagrada Familia Tower Tickets
BOOK NOW
---
We definitely recommend this tour
"We were very pleased with our tour of the Sagrada Familia with LivSpain's guide, Maria. She was an excellent guide and very personable. Accessing the church in the early morning is also well worth whatever difficulties you might have getting there early. We entered before the main crowds and had the chance to explore and admire the architecture in complete comfort. "
Carl - UK
---
5 star tour of the Sagrada Familia
"How many times had we seen the Sagrada Familia cathedral in art and coffee table books! Believe me, to see it in real life, is breathtaking!!! If you are like us and want to understand the history of this masterpiece and what influenced this particular style, we can highly recommend that you take LivSpain's tour. We were particulary happy that we had booked an early morning entrance as we were able to wonder around and really appreciate this marvelous creation without too many other people around. "
Bernard - UK
---
Great tour
"Our family of 4 booked this tour with LivSpain so that we could understand better the (somewhat contorted) history of this world-famous place and about Gaudi's life and works. On both counts, we were completely satisfied. Great tour! Thanks!"
Diana and fam - USA
---
BOOK NOW
---
By selecting BUY AS A GIFT, you can purchase this tour as a gift for someone you care for. You will receive a gift card voucher that then can be redeemed by the person/people who will enjoy the tour.Date and Time are values that cannot be selected at the moment. You will in fact receive a gift card voucher with instructions on how to redeem the tour and then select date and time.You can create a shopping cart with multiple tours as gift cards. You may not compose a shopping cart of gift cards and actual tours with date and time.This option can also be used as an opportunity to book a tour open-dated for yourself, in case you are still in the pre-planning phase of your trip.For more information please read here.
BOOK NOW