Drive a Lamborghini in Italy | Huracan Test Drive
---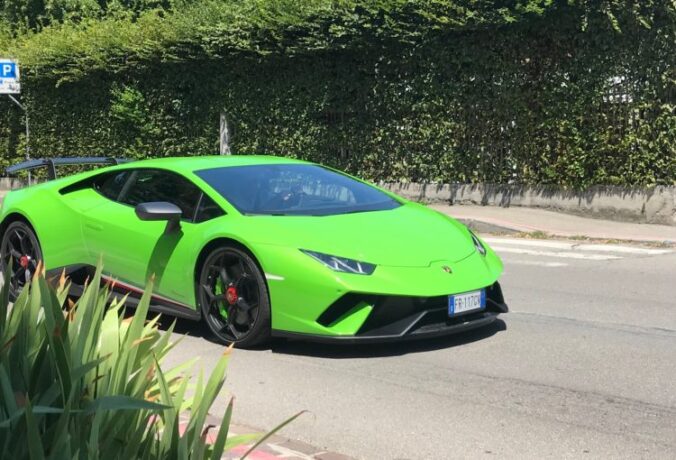 ---
LivTours' Drive a Lamborghini in Italy Experience is a fantastic way to experience the power of this sports car that was introduced to the world at the 2016 Geneva Auto Show as a replacement for the Gallardo. It stands as Lamborghini's most successful car ever. With the sleek design and an acceleration of zero to 100 km/h in only 2.5 seconds with an aspirated V10 engine, no wonder this is the car for the Italian highway police!  The mid-section engine placement and the new chassis, partially constructed from carbon, make it 50% stronger than the Gallardo.   The electronically controlled all-wheel drive hugs the road in any condition with boundless traction.
Lamborghini was started in the 60s to compete with Ferrari and other established sports car manufacturers.   The raging bull became its symbol when Ferruccio Lamborghini visited a renowned bull breeder in southern Spain.  He was so taken by the majestic animals that he decided to adopt the raging bull as the emblem for the cars he was planning on producing.   Nowadays Lamborghini has two factories, both of which are located in Sant'Agata Bolognese, about 40 minutes from Maranello, one is dedicated to manufacturing cars and the other to their SUV production.  It takes about two days to produce one car, including hand-stitched leather seats.
Slip into power and get ready to enjoy the ride of your life alongside a Ferrari-trained co-pilot!
BOOK NOW
---
Get the thrill of driving a Lamborghini in the Italian countryside

Get the most of the speed and power of this grand vehicle

Learn and enjoy the vehicle with a co-piloat

Drive through hills and stunning vineyards
BOOK NOW
Exclusive private Tours and Experiences. Also offered in Spanish, French, Portuguese, Swedish and Russian
Our prices always include tickets and reservations fees (no waiting in lines!)
Our tour guides and staff are selected experts and speak perfect English
Easy to book and prepay your tours with our secure payment system
Eco-sustainable tourism, designed to respect and support local culture, art and traditions
---
Your LivTours' Drive a Lamborghini in Italy Experience is the perfect opportunity to experience one of the top-performing Lamborghinis.  A Lamborghini trainer will be your copilot and will assist you, teach you, and allow you to fully experience all the horsepower that this Lamborghini Huracan has to offer: 0-100 km/h in just 3.4 seconds with a top speed of 325 km/h!
Enjoy exploring Maranello and its surrounding area as you cruise the streets in your dream car and treat yourself to this amazing opportunity. Choose between a driving time of 10 minutes to two hours. The duration you choose will determine the route you drive so the longer you choose, the more beautiful countryside and high speeds you will be able to experience.
After you have finished your drive, you will get a chance to try out an official Ferrari Formula 1 simulator for 10-12 minutes. Your test drive will be recorded with an internal video camera and you will receive the DVD as a memory of this experience.  Your co-pilot will also present you with a well-deserved diploma after your drive.
BOOK NOW
---
Lamborghini Huracan Test Drive (for one)

10/12 minutes F1 simulator (for one)

DVD of internal GoPro

Final Diploma
BOOK NOW
---
If you choose the 2 hour driving time option, you will receive a complimentary ticket to the Ferrari Museum of Maranello. This will be given to you directly from our staff the day of the experience.
Drivers must be 18 years of age and have a valid drivers license with one year of driving experience. You must bring your physical license with you on the day of the tour—no photocopies or images will be accepted.
BOOK NOW
---
LivTours' group size of max 6 participants is and always has been based on sustainable travel, and we are proud to be at the forefront of change and innovation in the industry.  LivTours is committed to providing travelers with truly sustainable tours with the lowest possible environmental impact, all while supporting the local industries and people of each unique destination. To learn more about how you can actively support sustainable tourism  and how LivTours is contributing, click here.
BOOK NOW
---
When you book a LivTours Private Tour or Experience, you are guaranteed a dedicated, expert guide that allows you the flexibility to start your tour at a time which is convenient for you, making planning easy. Our private tours ensure that you will get a tailored experience to meet all your needs so we go at your pace, perfect for families with younger children, elderly, or individuals with accessibility needs. Please be advised that all private tours begin at a base price starting at two people*. Prices are inclusive of entry tickets where applicable. *Some Ferrari private experiences are inclusive of one person only.
BOOK NOW
---
Make your day even more unique and comfortable by upgrading your tour with a customizable LivTours optional add on!
160 €
278.40 A$
148.80 £
188.80 $
BOOK NOW
---
Amazing experience
"For me, this was the experience of a lifetime driving a Lamborghini Huracan around the Italian countryside. They allow you to drive them pretty hard and my personal experience was awesome. Would definitely do it again."
Scott - USA
---
BOOK NOW
---
By selecting Choose Dates Later / Buy as Gift at booking, any tour can be purchased without fixed dates. This is the perfect option if you want to purchase your tour as a gift for a loved one, or if you are in the pre-planning phase of your vacation. After booking, you will receive a Travel Voucher Code and full instructions on how to schedule your tours when ready. Once your travel plans are confirmed, you can easily use the Travel Voucher Code on the LivTours website to formally schedule your tours. You can find out more here.
BOOK NOW