Capri Tour | Semi-Private Full Day Experience
---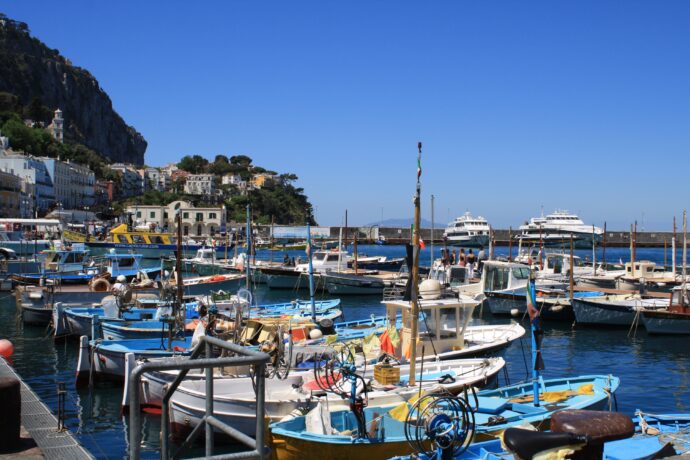 ---
LivTours Capri Tour is a unique semi-private experience filled with sun, food, boat ride, and history in a group of no more than six people! Come spend the day living in Capri, not just touring it. Located just off the Gulf of Naples and Sorrento, this is the perfect day trip filled with culture, sun, and sea. The views of the rugged coastline and postcard perfect views make the ferry ride a pleasure. The whole Coast is known for its local artisans, sailors, opera singers, limoncello, and great food, but Capri is especially famous for producing them.
Just off from Sorrento, the island of Capri was the paradise playground for the Roman Emperor Augustus who developed the island with villas, temples, aqueducts, and ornamental gardens.  After the Roman Empire fell, the island went through good times, as well as bad being attacked frequently by pirates before Napoleon turned it into a defensive port in the early 1800s.  By the late 1800s, the island had gained a reputation as a secluded holiday destination and never looked back.  With just over 12,000 residents, it is easy to see the attraction of this island that still unifies an artistic community with rugged landscapes and crystal clear blue waters.
Come enjoy a day trip to one of the best-kept secrets in the Mediterranean!
BOOK NOW
---
Enjoy a full day excursion with a passionate guide worries-free

Your guide will provide you with all tickets and fast passes to all activities

Enjoy the wonders and beauties of the island constantly ahead of the crowds

Live the island without stress and enjoy free time to soak the beauty
BOOK NOW
Semi-Private tours and experiences are guaranteed six participants max.
Our prices always include tickets and reservations fees (no waiting in lines!)
Our tour guides and staff are selected experts and speak perfect English
Easy to book and prepay your tours with our secure payment system
Eco-sustainable tourism, designed to respect and support local culture, art and traditions
---
Your LivTours Capri Tour starts in Sorrento where you will hop on a ferry to Capri with your guide and other travelers on your semi-private tour. Famous for being the most exclusive and upmarket island in the Mediterranean, this is a day to rub elbows with the rich and possibly famous. Your local guide will have tickets ready, ensuring that you will board the morning ferry to the beautiful Island of Capri. Upon arrival, you will set off in a motor boat to go straight to the beautiful and famous Blue Grottoes. Weather permitting, you will stop at the blue grottoes and visit the interior.  
Once back in the Capri port, your guide will organize an open-topped taxi to take you and your group up to the clifftop town of Anacapri. Anacapri might look like it is the top of the island, but to reach the peak you will need to take a short ski-lift ride. The view from the top of the island is just stunning and you will be able to capture unique photos of the stunning island, its crystal clear waters, and also the farther island of Ischia and the Gulf of Naples with Mt Vesuvius in the background. 
Back down the hill by taxi to Capri with your local expert guide where you will enjoy a short walking tour of the town and the amazing gardens of Augustus. Your guide will leave you with suggestions for lunch (not included in the price of the tour) and some free time activities. This is sure to be the perfect day in Italy!

BOOK NOW
---
Tour guide for the whole day

Skip-the-line access to all activities & sites

Round-trip fast ferry to Capri

Boat ride to Blue Grottoes*

Blue Grottoes visit*

Ski-lift ride

Open-top taxi ride

Tour of the port, town and Gardens of Augustus

Free time to shop and eat
BOOK NOW
---
The blue grottoes are only accessible if weather and tide permit.
If the boat trip to the Blue Grottoes is not possible due to weather reasons, but the Blue Grottoes are still visitable, your guide will get you to the grottoes from land.
BOOK NOW
---
LivTours' group size of max 6 participants is and always has been based on sustainable travel, and we are proud to be at the forefront of change and innovation in the industry.  LivTours is committed to providing travelers with truly sustainable tours with the lowest possible environmental impact, all while supporting the local industries and people of each unique destination. To learn more about how you can actively support sustainable tourism  and how LivTours is contributing, click here.
BOOK NOW
---
All LivTours Semi-Private Group Tours are limited to 6 guests per tour guide. Our commitment to maintaining our uniquely tiny group sizes can sometimes be a little tricky, mathematically speaking. For example, we want to ensure that traveling families and friends can tour together so on rare occasions we may add one or two guests in order to not split groups. On that same note, you may also find yourself on tour with less than six people! We thank you for your understanding and flexibility.
BOOK NOW
---
Capri in a day
"We had a very fun time with our tour guide Kelly from Livitaly Tours, who we met on the dock in Sorrento. We took 8 tours with Livitaly during our 3 weeks in Italy and loved them all. This tour is slightly different in that it's not about learning alot of history and seeing art and artifacts but more about having a guide to help you navigate getting to the island and seeing all of the sites in a single day. You could certainly do it on your own but having a guide made it so much easier and enjoyable for us and we were sure that we were able to fully experience the island. Kelly, our guide, was really a lovely person and we became quite fond of her. She shared very interesting background on the island and its inhabitants which helped give us a feeling for the place. The ferry from Sorrento goes pretty fast. The boat trip around the island is on a boat with other passengers but it's a small group so still very enjoyable. The water was too choppy that day for us to consider doing the blue grotto experience which was too bad. Overall I think Capri definitely deserves a visit at least once in a lifetime and this tour helps you check off all the activities in a single day AND in a fun and stress-less manner."
Miriam - USA
---
A day on the beautiful island of Capri
"The tour of the island of Capri with Mena was very enjoyable and informative. She met us at the port in Sorrento and took us over to Capri. Her local knowledge of the places and where to go, not only to avoid the crowds but to gain the best from the weather was really helpful. If we had undertaken this ourselves we wouldn't have managed to see as much of this beautiful island as we did. The trip also included a boat ride around the island. Her expertise, professionalism and knowledge of the Island made our day interesting and fun. It was a thoroughly enjoyable day!"
Eleanor Grace - USA
---
Ciao Bella!
"Today was totally amazing!!! We met Mena at the port and she took over from there. Her expertise, professionalism and knowledge of the Island made our day so interesting and fun. Mena was also a joy to be around and we loved getting to know her. Thank you, Mena for such an incredible day in one of the most beautiful places on earth. "
Peggy and Jan - USA
---
BOOK NOW
---
By selecting Choose Dates Later / Buy as Gift at booking, any tour can be purchased without fixed dates. This is the perfect option if you want to purchase your tour as a gift for a loved one, or if you are in the pre-planning phase of your vacation. After booking, you will receive a Travel Voucher Code and full instructions on how to schedule your tours when ready. Once your travel plans are confirmed, you can easily use the Travel Voucher Code on the LivTours website to formally schedule your tours. You can find out more here.
BOOK NOW