Amalfi Coast Private Boat Tour | Exclusive Experience
---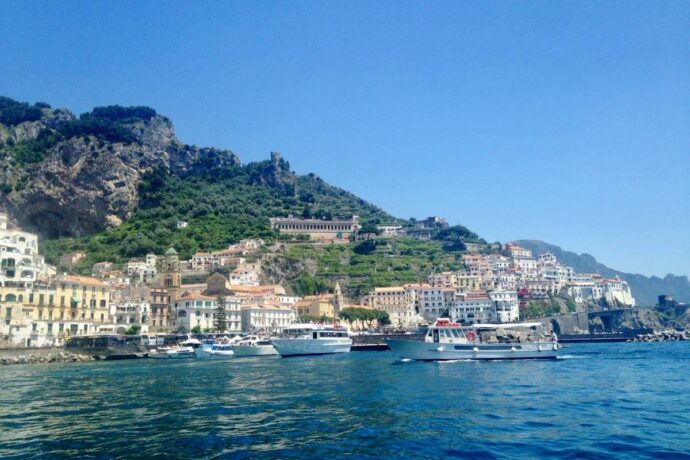 ---
LivTours Amalfi Coast Private Boat Tour is the perfect way to see the many towns dotting the Amalfi Coast. We have designed this tour with families, groups of friends, or romantic couples in mind; giving you the option of spending a half-day on a gorgeous private boat while admiring the coastline. This all-inclusive experience lets you do exactly what you should do on vacation, lay back, and relax in the sun while your private skipper chooses the most beautiful route for sightseeing and swimming.
There is no more remarkable and memorable way to see the Amalfi Coast than with a professional bilingual skipper giving you a guided tour of the stunning seaside towns along the coast. The tour includes stops along the way for a bit of swimming so come prepared to see the beauty above and below water!

The tour includes a complimentary drink and snack on board so you can sit, sip and sunbathe in style along the Mediterranean Sea.
BOOK NOW
---
Enjoy a luxurious private boat ride along the stunning backdrop of the Amalfi Coast

Take a swim in the clear blue waters of the Mediterranean Sea & discover hidden coves

See the beauty of the cascading colorful homes of Positano from the Mediterranean

Toast to the sea in southern Italy with a complimentary drink and snacks on board

Lay back & relax while coasting along the Meditarrean Sea on this all-inclusive ride
BOOK NOW
Exclusive private Tours and Experiences. Also offered in Spanish, French, Portuguese, Swedish and Russian
Our prices always include tickets and reservations fees (no waiting in lines!)
Our tour guides and staff are selected experts and speak perfect English
Easy to book and prepay your tours with our secure payment system
Eco-sustainable tourism, designed to respect and support local culture, art and traditions
---
Your LivTours Amalfi Coast Private Boat Tour commences in either Sorrento or Positano, whichever is better for you.  You will meet your bilingual skipper at the dock and board your luxury boat with all the amenities to make you comfortable during your sailing. The boat includes towels, snorkeling equipment, snacks, and drinks (both alcoholic and non-alcoholic).
Once you are comfortably seated, your skipper will set sail, and immediately you will be amazed by the breath-taking views, sheer cliffs, rugged coastline, small islands, and hidden sandy coves.  Your skipper will make sure you are taken to the most impressive areas for swimming, diving, snorkeling, or sightseeing based on your preferences. If you're lucky, your skipper will dive in to fish for some special fresh sea-urchins that you can enjoy with lemon on board while drying off and sipping on prosecco.
Enjoy the company of other swimmers and pass other boats on your luxurious private boat, check out Positano, Atrani, Amalfi, and other beautiful towns from the water. You will take a break for lunch and your skipper will make suggestions based on your tastes. There are many cliffside restaurants that offer one of a kind views out over the Mediterranean. If you like, you can even dock at one of the towns to allow some time for shopping or sightseeing.
This is considered one of the most spectacular experiences LivTours has to offer and truly a magical experience!
Please specify in the "additional notes box" if children will be joining the excursion. We will need to know the age of each child to be able to provide the correct life jacket onboard.
BOOK NOW
---
Private boat at your complete disposal

Bi-lingual skipper at your service

Ability to explore the wonders of the coast

Towels and other amenities

Drinks and snacks on board
BOOK NOW
---
Please note there is no sun protection at the port, it is recommended to bring adequate sun protection to cover yourself while awaiting pick-up.

Experience includes

towels, soft drinks, snacks, and bilingual skipper at your complete disposal.

The base-fee price is for our Jeranto 750 or, in rare cases, a Sparviero 700 which fits up to 6 people. For any additional participants, we then will upgrade you to our bigger Jeranto 900.

Offered in: English, French, Spanish, Portuguese, and Italian. Please specify under "Additional notes" if you wish to book the tour in a language other than English.
BOOK NOW
---
LivTours' group size of max 6 participants is and always has been based on sustainable travel, and we are proud to be at the forefront of change and innovation in the industry.  LivTours is committed to providing travelers with truly sustainable tours with the lowest possible environmental impact, all while supporting the local industries and people of each unique destination. To learn more about how you can actively support sustainable tourism  and how LivTours is contributing, click here.
BOOK NOW
---
When you book a LivTours Private Tour or Experience, you are guaranteed a dedicated, expert guide that allows you the flexibility to start your tour at a time which is convenient for you, making planning easy. Our private tours ensure that you will get a tailored experience to meet all your needs so we go at your pace, perfect for families with younger children, elderly, or individuals with accessibility needs. Please be advised that all private tours begin at a base price starting at two people*. Prices are inclusive of entry tickets where applicable. *Some Ferrari private experiences are inclusive of one person only.
BOOK NOW
---
Make your day even more unique and comfortable by upgrading your tour with a customizable LivTours optional add on!
Roundtrip Transfer from Naples Hotel to Sorrento Marina
350 €
609 A$
325.50 £
413 $
Roundtrip Transfer from Sorrento Hotel to Sorrento Marina
150 €
261 A$
139.50 £
177 $
Add Snorkeling kit you can bring home
30 €
52.20 A$
27.90 £
35.40 $
Start your Experience from the Positano Marina
250 €
435 A$
232.50 £
295 $
Start your Experience from the Amalfi Marina
350 €
609 A$
325.50 £
413 $
BOOK NOW
---
Fun learning and beautiful area
"Our tour was awesome and we learned so much. We had an amazing guide wh was an expert. He was very professional and engaging. Our driver was very kind and knew a lot of information about the Amalfi Coast. We had a great day!"
Danny - United States
---
Amalfi Coast boat tour
"We don't usually publish reviews but my wife and I such a wonderful time on LivItaly's Amalfi Coast Private Boat tour that we felt we just had to share our experience. Of course, everyone knows the Amalfi Coast warrants a visit but to see it from the sea is spectacular. Cobalt blue water and breathtaking cliffs and rock structures. You won't be disappointed. "
Warren - UK
---
BOOK NOW
---
By selecting Choose Dates Later / Buy as Gift at booking, any tour can be purchased without fixed dates. This is the perfect option if you want to purchase your tour as a gift for a loved one, or if you are in the pre-planning phase of your vacation. After booking, you will receive a Travel Voucher Code and full instructions on how to schedule your tours when ready. Once your travel plans are confirmed, you can easily use the Travel Voucher Code on the LivTours website to formally schedule your tours. You can find out more here.
BOOK NOW