All Inclusive Rome in a Day Semi-Private Tour
---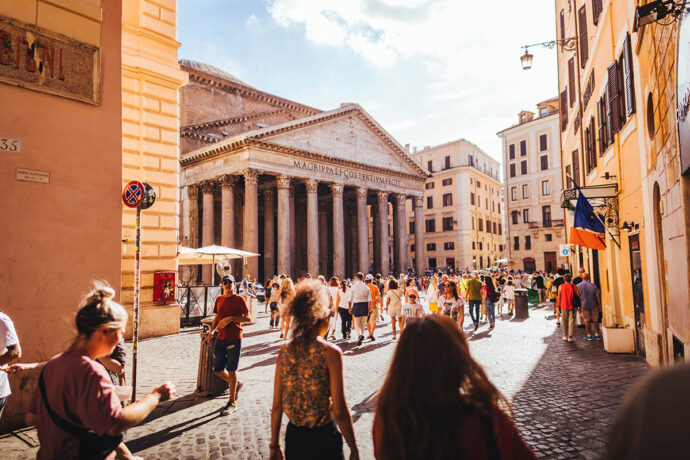 ---
LivTours All Inclusive Rome in a Day Semi-Private Tour brings you the most privileged tour by combining two exclusive half-day tours, making the perfect full-day tour of Rome. Imagine enjoying an early entrance to the Sistine Chapel, and visiting two restricted areas of the Colosseum with your expert guide and a maximum of five additional travelers.
The 8,000 square feet of painting that adorns the Sistine Chapel is in itself an amazing masterpiece, but on this tour, you will be able to enjoy it an entire hour before the crowds arrive. You will enjoy seeing it and capturing it as the soft morning light brings vibrant colors to life.
Walk on the very floors where thousand souls to lost fighting for their lives in some of the most specatulcar games in history. This full-day tour shows you much more than those two famous sites giving you a complete overview of the Eternal City on this tour!
BOOK NOW
---
See the highlights of the Eternal City in one day on this semi-private tour

Visit the Colosseum, Sistine Chapel, Pantheon & more with an 5-star guide

Maximize your enjoyment with LivTours exclusive priority access & skip all the lines

Enjoy visiting the Vatican Museums - one of the largest art collections in the world

Enjoy a portion of the tour in a luxury, private chauffeured Mercedes Benz
BOOK NOW
Semi-Private tours and experiences are guaranteed six participants max.
Our prices always include tickets and reservations fees (no waiting in lines!)
Our tour guides and staff are selected experts and speak perfect English
Easy to book and prepay your tours with our secure payment system
Eco-sustainable tourism, designed to respect and support local culture, art and traditions
---
LivTours Semi-Private Rome in a Day Tour starts at the iconic Colosseum where you will meet your expert LivTours guide and the other travelers on your maximum six-person tour.  With LivTours' privileged access into the Colosseum, you will skip the long entrance lines maximizing your time with your expert guide.  Once inside, you will learn about the construction, the uses of the imposing ancient building, hear stories about gladiators, theater shows, and wild animal fights that used to take place here. After some bloody gladiator stories and opportunities to take memorable pictures, your guide will share with you the nearby Roman Forum.
On your semi-private Rome in a day tour, your guide will share with you the amazing stories about Romulus and the Kings, Julius Caesar, Octavian, Hadrian, and many more while you stroll through ruins walking on original paving stones.  You will learn how the city of Rome first started and how it grew to become the largest political and military power of the ancient world.
Admire the beauty of the historic city center of Rome from the comfort of your seats! The next part of your Rome in a Day Tour allows you to experience a tour of the city in style, as you are driven around by a private chauffeur in a Mercedes Benz to Rome's most famous monuments.
Once you are in the van, you will set off to explore the Trevi Fountain.  Do not forget to toss a coin in if you want to return to Rome!  Your expert guide will explain to you its striking beauty and interesting history. Continuing through the winding streets you will reach the ever-impressive Pantheon. Dating back to the 2nd century, it remains a unique example of an engineering triumph, with a dome unmatched to this day, it is an imposing presence in Rome's historical center. Now it is off to Piazza Navona, the largest square in Rome, with its quintessential iconic square of Roman Baroque architecture.
Next on this list is lunch and once your driver has dropped you off near the Vatican you will have time for a quick lunch break (not included in the  price). With more energy, your action-packed day continues, with your guide by your side, in The Vatican Museums. Skipping the long lines, you will enjoy LivTours' priority access, so get ready to see the highlights of the vast art collection housed here.  Your guide will make sure you see the lavishly decorated halls and visit the Gallery of Maps, Gallery of Tapestries, the Raphael Rooms, and of course, Michelangelo's Sistine Chapel.
Admire the masterpieces as your guide entertains you with the fascinating history of the Popes and the artists that worked for them. Your tour's last stop is St Peter's Basilica, the largest Catholic church in the world, where you will admire Michelangelo's Pietà, the Bernini Baldacchino, and Michelangelo's dome.
After your complete tour of the Vatican Museum, the Sistine Chapel, and St. Peter's Basilica you will be ready to call it a day. Now it is time to sit back and enjoy the evening knowing that you have seen the best of the Eternal City!
BOOK NOW
---
Colosseum skip the line tickets

Roman Forum

Palatine Hill

Skip the line Vatican tickets

Sistine Chapel

St Peters Basilica

St Peters square

Pantheon

Trevi Fountain

Piazza Navona

Chauffeur between sites
BOOK NOW
---
Places of worship have strict dress code requirements for entry. All participants are required to have shoulders and knees covered (no tank tops or short dresses) to enter.

There is no photography allowed in the Sistine Chapel.

St. Peter's Basilica is an active church and can be closed unexpectedly for liturgical ceremonies. If closed, the time inside the Vatican Museums will be extended.

Please be aware that the Sistine Chapel is a Holy Place and talking during your visit inside is strictly forbidden, therefore your guide will give you an explanation of the Sistine Chapel beforehand during your tour, in order to give you a comprehensive explanation before entering the chapel.

Backpacks are not permitted in the museum.

Guests with wheelchair accessibility needs will find difficulty with this itinerary proposed in this tour. In order to ensure a barrier-free tour with alternative routes, please book the private version of this tour.

In order to book this experience, you must be at least 2 participants.

Due to these unprecedented times and ongoing safety and regulation changes, some sites may have limited accessibility if the venue can not guarantee social distancing which may lead to unforeseen tour modifications. Thank you for your understanding.

LivTours' group size of max 6 participants is and always has been based on sustainable travel.

BOOK NOW
---
All LivTours Semi-Private Group Tours are limited to 6 guests per tour guide. Our commitment to maintaining our uniquely tiny group sizes can sometimes be a little tricky, mathematically speaking. For example, we want to ensure that traveling families and friends can tour together so on rare occasions we may add one or two guests in order to not split groups. On that same note, you may also find yourself on tour with less than six people! We thank you for your understanding and flexibility.
BOOK NOW
---
Great intro to Rome
"Did the Rome in a day tour which included a morning small group Vatican tour and half day Colluseum tour. Both had excellent guides with extensive knowledge. Would highly recommend especially if you are short on time."
Mat - USA
---
Great tour of Rome with LivItaly
"Frederica was a great tour guide for first half of our day at the Colosseum and Roman Forum! Knowledgeable, friendly and engaging. Jade was equally great for the afternoon at the Vatican. Take this tour to enhance your Rome experience!"
Cathleen - USA
---
Rome in a day
"So much history, so much to see and learn. There's no way you can pack it all in with one tour, but our guide Giulia did an amazing job. She was very friendly, and super knowledgeable about every aspect of this enchanting city: its history, art and architecture and culture. She even gave us a list of her favorite restaurants, and the two that we tried were amazing! LivItaly gets my praise- highly recommend, especially if you are visiting Rome for the first time."
Filomena - Australia
---
BOOK NOW
---
By selecting Choose Dates Later / Buy as Gift at booking, any tour can be purchased without fixed dates. This is the perfect option if you want to purchase your tour as a gift for a loved one, or if you are in the pre-planning phase of your vacation. After booking, you will receive a Travel Voucher Code and full instructions on how to schedule your tours when ready. Once your travel plans are confirmed, you can easily use the Travel Voucher Code on the LivTours website to formally schedule your tours. You can find out more here.
BOOK NOW