Twilight Experience Semi-Private Barcelona Evening Tour
---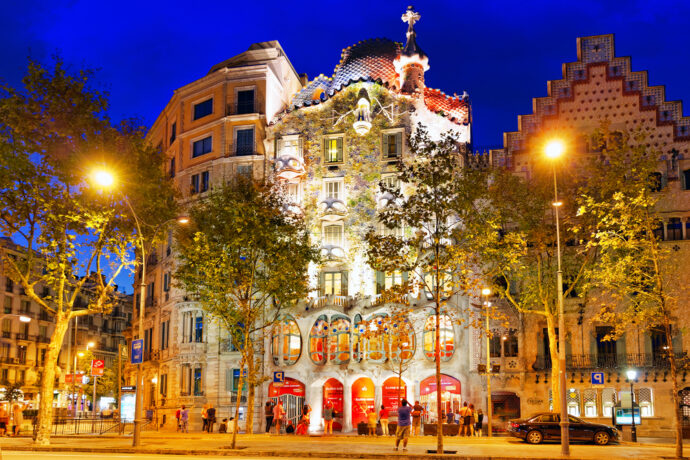 ---
LivTours Twilight Semi-Private Barcelona Evening Tour is an awesome way to experience Barcelona at its best; combining stunning sunsets and strolls to get a closer look at the amazing monuments of the city. Get your cameras ready as your top-rated guide helps you uncover the magical side of this Mediterranean city illuminated by twinkling streetlights.
You will not only see the most delightful sites, but your expert guide will give you a comprehensive overview of Barcelona. Your semi-private group of no more than six people will have the luxury of seeing the most stunning evening vantage points in the city where you will have a chance to admire Gaudi's masterpieces: Casa Batlló, la Pedrera, and the Sagrada Familia. You'll be whisked to each location via luxury vehicle!
Your guide will stop at Barcelona's beautiful Olympic Port, set on the Mediterranean, and take you for a short walk to admire the sea and the views across the city. The Olympic Port and Village are not only places of physical beauty but are the result of the massive urban changes the city experienced in the lead up to the 1992 Summer Olympic Games when they transformed an industrial area into a major social and sports hub. From there it is off to Montjuic, this hill set next to the cruise ship port has a fascinating history from quarry to Grand Prix racetrack to Olympic installations for the competitions.
BOOK NOW
---
Admire the beauty of Barcelona by night when the city glimmers in the twilight

Appreciate the luxury & comfort of a small group of no more than six people

Dive into the highlights of this vibrant city with your adept local tour guide

Gain an understanding of the city's history and its most important monuments

Enjoy hearing the anecdotes that have shaped the seaside city of Barcelona
BOOK NOW
Semi-Private tours and experiences are guaranteed six participants max.
Our prices always include tickets and reservations fees (no waiting in lines!)
Our tour guides and staff are selected experts and speak perfect English
Easy to book and prepay your tours with our secure payment system
Eco-sustainable tourism, designed to respect and support local culture, art and traditions
---
If you are interested in seeing all the most beautiful and interesting sites in Barcelona and learn about its fascinating history and culture, you won't find a better way to accomplish this than to join LivTours Barcelona Evening Tour. A small group tour allows you to have plenty of personal attention from your guide, and with a maximum of six people per tour, everybody in the group can get exactly what they want from the experience. You can also rest your feet after a day of exploring knowing you'll be traveling in style in a luxury vehicle.
You will meet your guide at Plaça Catalunya, where the old city meets the new city from the turn of the 20th century. The first stop on your tour will be the fancy Paseo de Gracia with its outstanding Art Nouveau buildings to explore the one-of-a-kind creations of the Catalan architect Antonio Gaudi.
The first of Gaudi's creations that you will see on your small group tour will be the façade of Casa Batlló, a house designed in the early 1900s based on the legend of Saint George and water. Set along two other houses built in the same time period, is a stunning city block that should not be missed. Just a few blocks from there, is another outstanding creation of Gaudi's, Casa Mila, with its distinctive, yet harmonious combination of curved limestone and iron.
Next stop is one of Gaudi's most memorable creations – la Sagrada Familia. With an expected completion date of 2026, this majestically unique basilica hosts captivating façades depicting the story of The Bible topped with 8 of the 18 bell towers constructed and another 10 well underway. It has a magical, almost mystical quality in the evening light and is simply picture-perfect.
Your driver will take you to Montjuic, the last stop on this tour. This hilltop neighborhood which overlooks the harbor below, and offers magnificent views of the city's night lights. Explore the grounds of the lovely Museu Nacional Barcelona and marvel at the dancing water and light show of the "Magic Fountain", which was built for the 1929 World's Fair. The fountain is illuminated by colorful lights in the evening, making the atmosphere truly magical, as the fountain promises!
BOOK NOW
---
Transport in luxury vehicle

Fully guided tour

Plaça Catalunya

Paseo de Gracia

Gaudi's Casa Batlló

Gaudi's Casa Mila

La Sagrada Familia (from outside)

Montjuic viewpoint

Museu Nacional Barcelona

Olympic Port
BOOK NOW
---
LivTours' group size of max 6 participants is and always has been based on sustainable travel and especially in these new times, we are proud to be at the forefront of the innovation, changes, and challenges that are presented to us during this post-pandemic time. At the moment, due to COVID-19 safety regulations, you are required to wear a mask for the entire duration of the tour. Please bring one for every participant over 6 years of age.

Due to these unprecedented times and ongoing safety and regulation changes, some sites may have limited accessibility if the venue can not guarantee social distancing which may lead to unforeseen tour modifications. Thank you for your understanding.
BOOK NOW
---
All LivTours Semi-Private Group Tours are limited to 6 guests per tour guide. Our commitment to maintaining our uniquely tiny group sizes can sometimes be a little tricky, mathematically speaking. For example, we want to ensure that traveling families and friends can tour together so on rare occasions we may add one or two guests in order to not split groups. On that same note, you may also find yourself on tour with less than six people! We thank you for your understanding and flexibility.
BOOK NOW
---
Must show Vaccination or Negative test for Italy & France Tours
For all France and Italy tours that include an indoor activity, a museum or an archeological park visit, it is now National Law in both countries, to present a covid-19 vaccination card OR negative covid-19 test result from the past 48 hrs accompanied by your personal ID to the local authorities for all adults over the age of 12. Lack of ability to present such documentation may result in loss of tour and funds lifting LivTours from all responsibilities.
---
BOOK NOW
---
5 star experience
"This is an enchanting time to see the highlights of Barcelona! Our small group of 6 plus amazing guide, Carlos, saw the best of the city in a moment when the city is at its best! Fairly calm and easy to navigate. The monuments at this hour are mystical and watching the sun set over the ocean was very romantic. We give this tour all 5 stars and will recommend it to everyone we know coming to Barcelona."
Freddy - Australia
---
Excellent evening tour
"LivSpain's evening tour of Barcelona was very enjoyable and true to all that is advertised. We booked it without any doubt since we had booked another tour in Rome with this same company (known there as LivItaly). As in Rome, we were guaranteed a small group (only 5 of us for our tour in Barcelona) and an expert local guide who spoke perfect english and was extremely knowledgeable about the history of Barcelona and the various sites that we saw. We have only the best things to say about this company and the tours that they offer. "
Orwell - UK
---
Fun experience
"Doing this walking tour in the evening was definitely the best choice. There's a little bit less confusion on the streets and the sun setting on the monuments and over the ocean is really something to see! We were in a small group of just 5 people so it was very intimate and enjoyable. We stopped and had drinks together at the end of the tour. It was an unforgettable way to see Barcelona."
Zoe - Canada
---
BOOK NOW
---
By selecting BUY AS A GIFT, you can purchase this tour as a gift for someone you care for. You will receive a gift card voucher that then can be redeemed by the person/people who will enjoy the tour.Date and Time are values that cannot be selected at the moment. You will in fact receive a gift card voucher with instructions on how to redeem the tour and then select date and time.You can create a shopping cart with multiple tours as gift cards. You may not compose a shopping cart of gift cards and actual tours with date and time.This option can also be used as an opportunity to book a tour open-dated for yourself, in case you are still in the pre-planning phase of your trip.For more information please read here.
BOOK NOW