Rome Photo Tour on Golf Cart | Semi-Private
---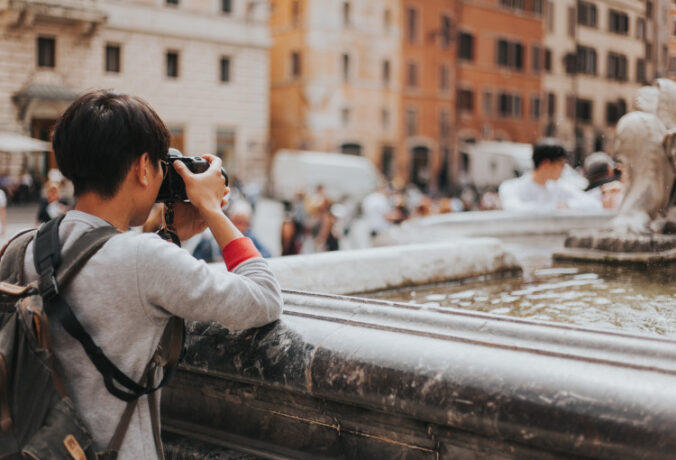 ---
LivTours Rome Photo Tour on Golf Cart is an opportunity to fulfill your dream of capturing Rome's beauty in a few simple shots. This fantastic and exclusive semi-private tour is guided by a photo enthusiast who knows the very best spots to capture the spirit of Rome, as you ride from spot to spot in a comfortable golf cart.
The tour is a fantastic opportunity to put your photography gear or fancy smartphone to use while exploring some of the most picturesque spots of the Eternal City. Your semi-private experience takes place during the world-famous Roman "Golden Hour" – in the evening when the sunset makes the sky glow.
This experience is a fantastic balance of monuments, panoramic views, and local life. You will have the pleasure of moving quickly and comfortably from spot to spot in a golf cart. Leave the planning to us, as your guide takes to areas for perfect shots. You can capture the moment from different angles that are perfect for Instagram or your travel photo collection, while your tour guide explains the history of the sites!
BOOK NOW
---
Take amazing pictures of the Eternal City on this unique semi-private experience

Enjoy a good balance of monumental, panoramic and life shots in the heart of Rome

Relax as your guide takes you around Rome on a private comfortable golf cart

Hear amazing information from your expert guide as they assist you

Savor an amazing Italian aperitivo as you reflect on this unique experience
BOOK NOW
Semi-Private tours and experiences are guaranteed six participants max.
Our prices always include tickets and reservations fees (no waiting in lines!)
Our tour guides and staff are selected experts and speak perfect English
Easy to book and prepay your tours with our secure payment system
Eco-sustainable tourism, designed to respect and support local culture, art and traditions
---
Your LivTours Rome Photo Tour on Golf Cart is the ultimate great mixture of memorable photos and history. In your semi-private tour of six travelers, you are guaranteed personal attention and care. This tour offers the ideal introduction to Rome for newcomers as well as returning travelers who want a new perspective on a familiar sight. This tour is perfect for those who want to focus on capturing the city in pictures while exploring one of Europe's most historic city.
Capture the impressive skyline of the Eternal City with its countless domes, dramatic gushing fountains, and candid shots of locals enjoying a cafe or taking their early evening passeggiata (typical Roman tradition of taking a stroll to catch up with a friend) in Romes historic center. Getting around is easy on this tour with the use of a luxury golf cart, so the world is your oyster, or better said just Rome is your oyster today!
Your LivTours guide is also a photo enthusiast who will craft the tour based on the sorts of pictures you'd like to capture. Let your inner photographer expolore while discovering Rome's great monuments, classical Baroque architecture, and famous piazzas, or opt for a more off the beaten path route and visit hidden courtyards, obscure churches, and winding alleyways. Your guide will make sure you celebrate the end of your tour in style with a typical Italian aperitivo in the center of Rome. Food and drinks are complimentary and you will have an opportunity to socialize with the other travelers as you review your gorgeous photos and exchange tips. Or you may be still into taking pictures of another Italian icon: food and wine!
BOOK NOW
---
Piazza della Repubblica

Via Cavour

Colosseum (from outside)

Circus Maximus

Pyramid in Testaccio

Santa Maria Maggiore

Palatine Hill

Aventine Hill and Keyhole

Palatine Hill

Mouth of Truth

Vittoriano monument

Piazza Navona

Trevi Fountain

Piazza Barberini

Pantheon (outside)

Spanish Steps
BOOK NOW
---
LivTours' group size of max 6 participants is and always has been based on sustainable travel, and we are proud to be at the forefront of change and innovation in the industry.  LivTours is committed to providing travelers with truly sustainable tours with the lowest possible environmental impact, all while supporting the local industries and people of each unique destination. To learn more about how you can actively support sustainable tourism  and how LivTours is contributing, click here.
BOOK NOW
---
All LivTours Semi-Private Group Tours are limited to 6 guests per tour guide. Our commitment to maintaining our uniquely tiny group sizes can sometimes be a little tricky, mathematically speaking. For example, we want to ensure that traveling families and friends can tour together so on rare occasions we may add one or two guests in order to not split groups. On that same note, you may also find yourself on tour with less than six people! We thank you for your understanding and flexibility.
BOOK NOW
---
FINALLY got a family photo with everyone smiling!
"We had a fabulous time with Andy. He was great with our teens, tolerating all the requests for silly photos as well as pointing out different places for better points-of-view. Will (our 17-year-old) downloaded the photographs he took with his camera & there are many frameable shots! Plus, we FINALLY got a family photo with everyone smiling (and not the fake kind — LOL!). "
Katie
---
Great tour - thanks John!
"Both my partner and I love to take pictures for social media so this tour was the greatest! John was the guide and he was very friendly and flexible. There was another couple on the tour with us and we all got along really well. John took us to all of the major sites plus others that aren't on the beaten track and we got some really awesome pix. Going around on the golf cart is fun too."
Phil - USA
---
Golf Cart Photo tour
"Our guide Giulia was incredible throughout the entire golf cart photo tour! She was knowledgeable about Rome's history and was very flexible, caring and thoughtful. She made sure that we were in the best possible positions for taking great shots. Getting around the city on a golf cart is very convenient and easy. We definitely saw many more places then we would have had we been just walking. We got some really great photos, thanks to Giulia and to LivItaly's tour! "
Tim - Australia
---
BOOK NOW
---
By selecting Choose Dates Later / Buy as Gift at booking, any tour can be purchased without fixed dates. This is the perfect option if you want to purchase your tour as a gift for a loved one, or if you are in the pre-planning phase of your vacation. After booking, you will receive a Travel Voucher Code and full instructions on how to schedule your tours when ready. Once your travel plans are confirmed, you can easily use the Travel Voucher Code on the LivTours website to formally schedule your tours. You can find out more here.
BOOK NOW