Private Segway Tour of Rome
---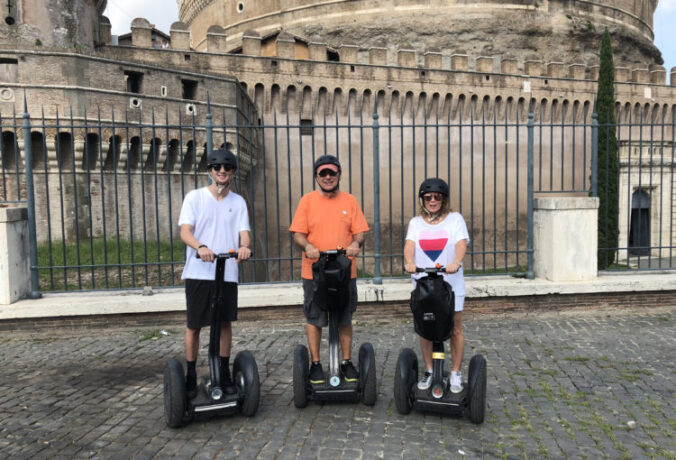 ---
LivTours Private Segway Tour Rome is the perfect way to have fun while discovering the city while saving your feet from getting tired! LivTours has added a modern twist to visiting this ancient city – Segways!  You will enjoy a morning gliding around the city seeing the most important sites in the company of your own private guide.  Your guide will share with you the must-see sites from Ancient Rome like the Colosseum and the Pantheon, and the ornate Baroque style that was so popular in 17th and 18th Europe in places like Piazza Navona and the Trevi Fountain, and so much more.  In three hours, you will see so much more than you would if traveling on foot!
Your tour starts with getting you familiar with a Segway, so no need to worry if you have not used one before, your guide will make sure you have plenty of time to practice before heading out to explore.  Come experience the Eternal City with a 21st-century twist by gliding through Rome on a Segway!
BOOK NOW
---
Visit the highlights that Rome has to offer in style and comfort on a private tour

Learn about the fascinating history of Rome from your expert private local guide

Admire Rome's most important sites Castel Sant'Angelo, Spanish Steps & Pantheon

Discover the Knights of Malta Keyhole that offers amazing views out over Rome

Throw a coin in Trevi Fountain to ensure your return to the Eternal City
BOOK NOW
Exclusive private Tours and Experiences. Also offered in Spanish, French, Portuguese, Swedish and Russian
Our prices always include tickets and reservations fees (no waiting in lines!)
Our tour guides and staff are selected experts and speak perfect English
Easy to book and prepay your tours with our secure payment system
Eco-sustainable tourism, designed to respect and support local culture, art and traditions
---
Your LivTours Private Segway Tour of Rome experience starts in the center of Rome in the expansive and flat Villa Borghese Gardens where you will meet your private guide and pick up your Segways. Your guide will give you pointers and help you get acquainted with how your Segway works before starting your tour.
On this tour with a modern twist, your experienced guide will take you to the most popular historical sights sharing with you the stories and anecdotes that make them so famous. You will discover a few millennia of history on this segway tour as you zip through the city.
Your expert tour guide will make history come alive first by diving back in time to Ancient Rome as you stop to see the Colosseum, glide past the ancient heart of Rome – the Forum – wind your way through the ancient streets to the Trevi Fountain, and stop to throw in a coin before seeing Rome's largest square, Piazza Navona, home to the former Roman Circus now home to stunning Baroque fountains! Next, it is on to the Castel Sant'Angelo before exploring the Jewish Quarter. Zip along the historic streets and beautiful backdrops while your guide shares with you the history of the remarkable sites. This modern way to explore a few millennia worth of history will save your feet miles and get you oriented in the Eternal City!
BOOK NOW
---
Borghese Gardens

Piazza Popolo

Via del Corso

Piazza Venezia

Ancient Rome & Colosseum

Pantheon

Trevi Fountain

Spanish Steps

Piazza Navona

Gianiculum Hill
BOOK NOW
---
All participants must be at least 16 years old and hold a proof-of-age.

Offered in: English, French, Spanish, Portuguese, and Italian. Please specify under "Additional notes" if you wish to book the tour in a language other than English.

Due to these unprecedented times and ongoing safety and regulation changes, some sites may have limited accessibility if the venue can not guarantee social distancing which may lead to unforeseen tour modifications. Thank you for your understanding.

LivTours' is and always has been based on sustainable travel and especially in these new times, we are proud to be at the forefront of innovation, change, and challenges that are presented to us during this post-pandemic time. At the moment, due to Covid-19 safety regulations, museums and sites visited on this tour require wearing a mask while on site. Please bring one for every participant over 6 years of age.
BOOK NOW
---
When you book a LivTours Private Tour or Experience, you are guaranteed a dedicated, expert guide that allows you the flexibility to start your tour at a time which is convenient for you, making planning easy. Our private tours ensure that you will get a tailored experience to meet all your needs so we go at your pace, perfect for families with younger children, elderly, or individuals with accessibility needs. Please be advised that all private tours begin at a base price starting at two people*. Prices are inclusive of entry tickets where applicable.
*Our Tuscan motorcycle tour and some Ferrari private experiences are inclusive of one person only.
BOOK NOW
---
Make your day even more unique and comfortable by upgrading your tour with a customizable LivTours optional add on!
BOOK NOW
---
Must show Vaccination or Negative test for Italy & France Tours
For all France and Italy tours that include an indoor activity, a museum or an archeological park visit, it is now National Law in both countries, to present a covid-19 vaccination card OR negative covid-19 test result from the past 48 hrs accompanied by your personal ID to the local authorities for all adults over the age of 12. Lack of ability to present such documentation may result in loss of tour and funds lifting LivTours from all responsibilities.
---
BOOK NOW
---
A great intro to the city
"This tour gives you a great introduction to the city. We wanted a tour that would show us the major sites and give us background information on what we were seeing. LivItaly offers several options (walking tour, golf cart tour, jogging tour, etc.) but when we saw the segway tour, we knew this would be perfect for us. And it was!! John was our guide and he was brilliant. He navigated the routes around the city center and we even saw some things off the beaten track. It was a fun and enjoyable way to get acquiated with the city. Would do it again anytime!"
Shawn - UK
---
Fun tour
"My brother and I went on this tour and Mike was our tour guide. He gave us a lot of interesting facts about Rome that you wouldn't usually get on your average tour. He was super friendly and accommodating and riding the Segway is really fun and easy. I would recommend this tour if you aren't sure where to start when you arrive in Rome as this tour takes you around the main attractions. This tour also gives you an idea of where you want to spend more time exploring later on your own. Thanks so much, Mike"
Susi - USA
---
BOOK NOW
---
By selecting BUY AS A GIFT, you can purchase this tour as a gift for someone you care for. You will receive a gift card voucher that then can be redeemed by the person/people who will enjoy the tour.Date and Time are values that cannot be selected at the moment. You will in fact receive a gift card voucher with instructions on how to redeem the tour and then select date and time.You can create a shopping cart with multiple tours as gift cards. You may not compose a shopping cart of gift cards and actual tours with date and time.This option can also be used as an opportunity to book a tour open-dated for yourself, in case you are still in the pre-planning phase of your trip.For more information please read here.
BOOK NOW