Private Motorcycle Tour of Tuscany Italy
---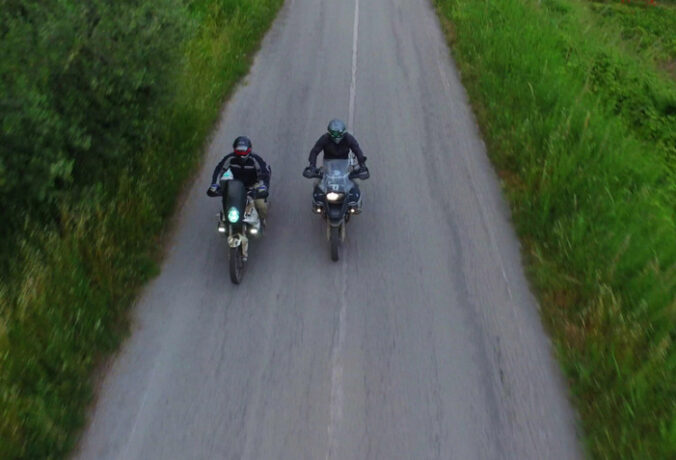 ---
LivTours' Motorcycle Tour Tuscany Italy is ideal for those who love to travel on two wheels but somehow could not manage to get the airline to accept their motorcycle as checked baggage!  This incredible day is a private experience with a local expert leading the way, you will experience a day that is unforgettable. Stop to visit charming villages, enjoy a bite of local food or take photographs while enjoying the feel of the Tuscan roads beneath you.
BOOK NOW
---
Experience beautiful Tuscan countryside roads by motorcycle with LivTours

Enjoy an unforgettable experience on two wheels with the Tuscan sun above

Revel in the comfort of driving a luxury motorcycle while admiring the beautiful land

Bring your passion for motorcycle driving to the beautiful countryside of Italy

Spend the day with an accomplished Dakar Race rider while exploring Tuscany
BOOK NOW
Exclusive private Tours and Experiences. Also offered in Spanish, French, Portuguese, Swedish and Russian
Our prices always include tickets and reservations fees (no waiting in lines!)
Our tour guides and staff are selected experts and speak perfect English
Easy to book and prepay your tours with our secure payment system
Eco-sustainable tourism, designed to respect and support local culture, art and traditions
---
Your LivTours' Motorcycle Tour Tuscany Italy starts in the charming town of Follonica in the province of Grosseto. Your exclusive private guide, Matteo Casuccio, the only Italian who has actually finished a Dakar race, will be there to greet you.
Not only a very accomplished rider, Matteo has a variety of amazing stories and adventures to share with you as your day unfolds. With his passion for motorcycles and his firsthand experience in Dakar, he is the perfect host for this incredible experience.
After meeting Matteo, you will be introduced to your new best friend, a wonderful, perfectly new BMW R 1200 GS, and will be given all the necessary equipment to enjoy the day. Once you are all set up, it is time to take off with Matteo for an adventure of the world-renown Tuscan hills.
Your day will include visiting the Medieval Borgos, hosting amazing photo opportunities, but also gently winding roads where you can comfortably enjoy the power of your BMW. We have designed this unique day with two people for every motorcycle in mind, so bring a friend, your partner or anyone who loves riding as much as you do!
Towards the middle of the day, once you have worked up an appetite, Matteo will introduce you to his favorite local restaurant in the middle of the rolling, vineyard-filled hills where you will enjoy some of the most delicious Italian cuisine of central Italy (lunch is not included in the total price).
BOOK NOW
---
Follonica town

Expert enthusiast guide

Borgos town

BMW R 1200 GS bike rental

Free time for local lunch

Explore tuscan countryside

Price includes 1 single driver
BOOK NOW
---
Price is inclusive for one rider only. Please add additional passengers or riders at booking.
LivTours' Motorcycle Tour Tuscany Italy is designed for anyone who wishes to bring their passion for riding to Italian soil, but requires a motorcycle driver's license and at least one year of experience.

Due to these unprecedented times and ongoing safety and regulation changes, some sites may have limited accessibility if the venue can not guarantee social distancing which may lead to unforeseen tour modifications. Thank you for your understanding.

LivTours' is and always has been based on sustainable travel and especially in these new times, we are proud to be at the forefront of innovation, change, and challenges that are presented to us during this post-pandemic time. At the moment, due to Covid-19 safety regulations, museums and sites visited on this tour require wearing a mask while on site. Please bring one for every participant over 6 years of age.
BOOK NOW
---
When you book a LivTours Private Tour or Experience, you are guaranteed a dedicated, expert guide that allows you the flexibility to start your tour at a time which is convenient for you, making planning easy. Our private tours ensure that you will get a tailored experience to meet all your needs so we go at your pace, perfect for families with younger children, elderly, or individuals with accessibility needs. Please be advised that all private tours begin at a base price starting at two people*. Prices are inclusive of entry tickets where applicable.*Our Tuscan motorcycle tour and some Ferrari private experiences are inclusive of one person only.
BOOK NOW
---
Make your day even more unique and comfortable by upgrading your tour with a customizable LivTours optional add on!
BOOK NOW
---
Great way to see the Tuscan countryside
"We are motocycle buffs so when we saw that LivItaly offered a motorcycle tour in the Tuscan countryside, it sounded like heaven. And believe me, it was!! The views are spectacular, the drive great fun and stopping along the way to visit little medieval towns and then a delicious lunch were all part of a day that we will never forget. Our guide Matteo was a superstar and the BMW R120GS....well, need I say anything more? Do this tour if you love motorcyles or even just if you want to see the Tuscan countryside in a different and exciting way!"
Brett - USA
---
BOOK NOW
---
By selecting Choose Dates Later / Buy as Gift at booking, any tour can be purchased without fixed dates. This is the perfect option if you want to purchase your tour as a gift for a loved one, or if you are in the pre-planning phase of your vacation. After booking, you will receive a Travel Voucher Code and full instructions on how to schedule your tours when ready. Once your travel plans are confirmed, you can easily use the Travel Voucher Code on the LivTours website to formally schedule your tours. You can find out more here.
BOOK NOW