Private Milan Walking Tour with da Vinci's Vineyard
---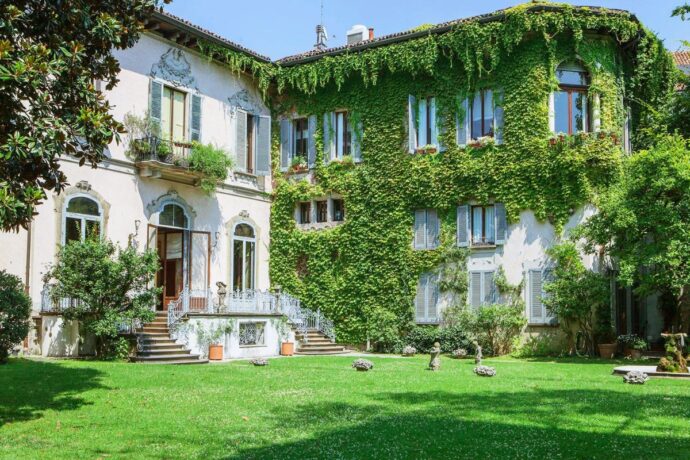 ---
Explore the enchantingly beautiful city of Milan beginning with a very special and unique visit to Leonardo da Vinci's Vineyard.
This is a working vineyard that was first gifted to da Vinci after he finished painting the iconic Last Supper fresco. The vineyard was destroyed by bombing in the Second World War, but has recently been brought back to life through excavations and genetic engineering.
After this magical visit to the lush green vineyards and 15th-century Atellani house, enjoy a privately guided tour through the highlights of Milan, Italy's modern fashion and financial capital, with Renaissance wonders everywhere you look. You will get a feel for this dynamic city, stop for a complimentary Italian coffee along the way, and step into the iconic Duomo—all alongside your expert guide. At the conclusion of the tour, you guide will show you to the Duomo terraces, where you can take in the stunning views overlooking the city and surrounding mountains at your own pace.
BOOK NOW
---
Enjoy a magical tour of da Vinci's born again vineyard

Visit the 15th-century Atellani house

Explore the highlights of Milan with an expert private guide

Enjoy a complimentary Italian coffee

Tour the magnificent Duomo and visit its terrace with stunning views
BOOK NOW
Exclusive private Tours and Experiences. Also offered in Spanish, French, Portuguese, Swedish and Russian
Our prices always include tickets and reservations fees (no waiting in lines!)
Our tour guides and staff are selected experts and speak perfect English
Easy to book and prepay your tours with our secure payment system
Eco-sustainable tourism, designed to respect and support local culture, art and traditions
---
Meet your expert LivTours guide in Piazza Santa Maria delle Grazie to begin this very special private tour of Milan, starting with a magical visit to da Vinci's vineyard. Leonardo da Vinci is one of the greats of the Italian Renaissance, famous for his art, his writings and his inventions alike. One of his most famous frescos, the Last Supper, is housed in the Santa Maria delle Grazie, a 15th-century church designed by a contemporary of da Vinci, Donato Bramante. It was after the great maestro had finished his iconic fresco of The Last Supper that he was gifted this beautiful vineyard. He then bequeathed it to his favorite pupil Salai and from there ownership of the vineyard passed down through the generations.
Sadly, the 500-year-old vineyard was destroyed during the bombing of the Second World War, but it has been resuscitated in recent years. Thanks to excavations, research and genetic engineering, da Vinci's vineyard is a thriving wine-producing enterprise once again! You will be able to visit not only the lush green vineyard but the pretty 15th-century Atellani house, with fascinating tidbits about Leonardo's life in Milan. 
Afterwards, your expert guide will take you on a private tour of the highlights of Milan. This city, whose humble origins date back to the 6th century, is today Italy's financial powerhouse and fashion capital. It is a very modern city, but also holds Renaissance treasures. You will stop at the magnificent San Maurizio al Monastero Maggiore, walk through Piazza degli Affari, see the L.O.V.E. sculpture and San Satiro among many other sights. Your guide will also treat you to a complimentary authentic Italian coffee. 
After exploring the streets, you will step into Milan's iconic, awe-inspiring centerpiece: the Duomo. The Duomo is over 600 years old and is the 5th largest cathedral in the world. Construction of this gothic architectural masterpiece began as early as 1386. The interior of the cathedral is vast and contains over 3,500 statues. At the conclusion of the tour, your guide will show you to the terraces, where you'll be able to explore on your own amongst the famous gothic spires and pinnacles, and enjoy captivating views over the city and the surrounding mountainous landscape.
BOOK NOW
---
Guided tour of Milan's highlights

da Vinci's Vineyard tickets and tour

San Maurizio al Monastero Maggiore

Complimentary coffee

Piazza degli Affari

L.O.V.E. sculpture

San Satiro

Milan Duomo tickets and tour
BOOK NOW
---
LivTours' group size of max 6 participants is and always has been based on sustainable travel, and we are proud to be at the forefront of change and innovation in the industry.  LivTours is committed to providing travelers with truly sustainable tours with the lowest possible environmental impact, all while supporting the local industries and people of each unique destination. To learn more about how you can actively support sustainable tourism  and how LivTours is contributing, click here.
BOOK NOW
---
When you book a LivTours Private Tour or Experience, you are guaranteed a dedicated, expert guide that allows you the flexibility to start your tour at a time which is convenient for you, making planning easy. Our private tours ensure that you will get a tailored experience to meet all your needs so we go at your pace, perfect for families with younger children, elderly, or individuals with accessibility needs. Please be advised that all private tours begin at a base price starting at two people*. Prices are inclusive of entry tickets where applicable. *Some Ferrari private experiences are inclusive of one person only.
BOOK NOW
---
Make your day even more unique and comfortable by upgrading your tour with a customizable LivTours optional add on!
BOOK NOW
---
By selecting Choose Dates Later / Buy as Gift at booking, any tour can be purchased without fixed dates. This is the perfect option if you want to purchase your tour as a gift for a loved one, or if you are in the pre-planning phase of your vacation. After booking, you will receive a Travel Voucher Code and full instructions on how to schedule your tours when ready. Once your travel plans are confirmed, you can easily use the Travel Voucher Code on the LivTours website to formally schedule your tours. You can find out more here.
BOOK NOW