Private Food Tour & Gelato Class in Florence
---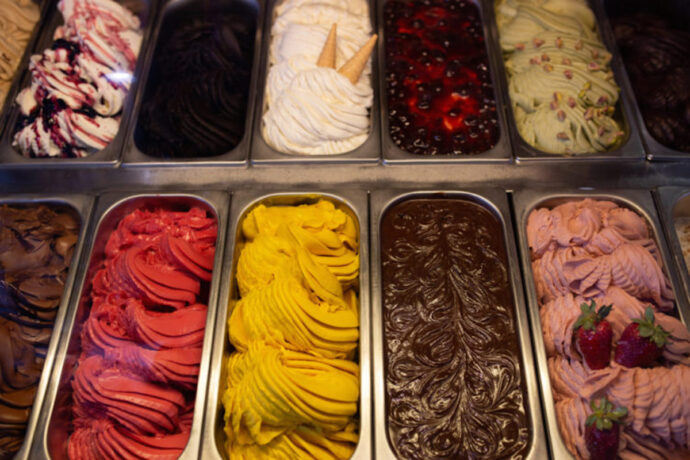 ---
LivTours Private Food Tour & Gelato Class in Florence is a foodies dream come true! This tour is a glimpse into daily Italian life with a trip to the local market, where many local Florentines spend their mornings shopping for fresh ingredients. However, you will not just be buying gelato, you will be learning to make it with an expert gelato maker. This is a comprehensive tour ideal for anyone who wants to learn the secrets of Italian food while enjoying a private class in one of the most renowned Italian foods – gelato!
If you are wondering about the difference between ice cream and gelato, look no further! Just like ice cream, gelato contains milk, sugar, and flavorings such as fruit, herbs or nuts, but, and here is a big difference, it has less cream than ice cream and usually no egg yolks.
Amazing considering it tastes creamier than ice cream! You might think this is a 'new' Italian dessert, but ancient Roman emperors reportedly ate very similar desserts, and this dessert is said to be one of many culinary inventions that Catherine de' Medici (yes, of the Medici Family) is said to have taken from Florence to Paris in 1533 when she married the King of France. There is no written proof of Catherine's gelato 'invention' making it to France then, but we do know that in 1686, Francesco Procopio dei Coltelli, a Sicilian fisherman and chef from Palermo, made the first gelato machine and took it to Paris!
Please note: We can accommodate dietary restrictions such as vegetarian or gluten-free. Please specify your food needs under "Additional Notes" after booking.
BOOK NOW
---
Experience a local food market in Florence with an expert private guide

Discover the history of Tuscan cuisine & its seasonal specialties

Experience a gelato making class and make your very own from scratch

Understand the difference between ice cream and gelato & choose your favorite

Take home unforgettable moments and edible souvenirs, including recipes
BOOK NOW
Exclusive private Tours and Experiences. Also offered in Spanish, French, Portuguese, Swedish and Russian
Our prices always include tickets and reservations fees (no waiting in lines!)
Our tour guides and staff are selected experts and speak perfect English
Easy to book and prepay your tours with our secure payment system
Eco-sustainable tourism, designed to respect and support local culture, art and traditions
---
Your LivTours Private Food Tour & Gelato Class in Florence begins the Italian way, by enjoying a traditional cappuccino or espresso with your local guide. Enjoy your coffee as you experience the typical hustle and bustle of daily local market life as merchants and local farmers selling their goods. As you drink your coffee, your expert LivTours guide will tell you about the history of Italian food and cuisine, explaining why this beautiful region still holds such strong culinary wealth. Discover how the staples of the Italian diet came to about.
FLORENCE CENTRAL MARKET
After enjoying your morning chat and coffee, it is time to wander the market soaking up the atmosphere and aromas of this beautiful Florence market. You will enjoy tasting some local specialties, and learn how and when they are used.  The Mediterranean diet is time and again referred to as the best diet to follow and once you see this typical market overflowing with seasonal produce you will understand why.  The stalls are run by farmers and families – often for generations – each confident that their products are the best! You will have a chance to find out for yourself.
But man (and woman) cannot live on vegetables and fruit alone and you will have a chance to enjoy exploring the stalls and stands of regional foods such as cheeses, fresh bread, cured meats and plenty more.
Your guide will make sure you learn how to choose good produce and teach you useful Italian phrases like: "1 chilo di pomodori, grazie!". If you would like to bring Tuscan specialties home, this is a good opportunity to do so as some stands can sell your goods in order for you to be able to bring it back on the plane.
FLORENCE GELATO MAKING CLASS
After exploring the market, your private tour guide will escort you to an exclusive private gelato making class right in the center of Florence. Your class takes place at a 3rd generation owned and run gelateria!
Notice the authentic products which go into making gelato and discover how some of the creamiest of them all do not even have dairy in them. Under the watchful eyes of the professionals, you can try your hand at making a fruit-flavored gelato from scratch as you hear about the key difference between ice cream, as gelato is made an entirely different way. Gelato is churned at a much slower pace than ice cream which gives it its creamy texture and enriches the natural flavors that go into gelato.  Gelato is also typically made with milk instead of cream – literally taking the cream out of ice cream – and some gelatos do not even contain any dairy at all!  The Italians pride themselves on using only the freshest, seasonal ingredients. Learn it all for yourself in this exclusive gelato making class!
Come join us for a fantastically fun foodie morning in Florence!
BOOK NOW
---
Welcome coffee- traditional

Florence market tour

Opportunity to shop

Gelato marking workshop

Gelato tasting

Fully guided experience
BOOK NOW
---
We can accommodate dietary restrictions such as vegetarian or gluten-free. Please specify your food needs under "Additional Notes" after booking.

Due to these unprecedented times and ongoing safety and regulation changes, some sites may have limited accessibility if the venue can not guarantee social distancing which may lead to unforeseen tour modifications. Thank you for your understanding.

LivTours' is and always has been based on sustainable travel and especially in these new times, we are proud to be at the forefront of innovation, change, and challenges that are presented to us during this post-pandemic time. At the moment, due to Covid-19 safety regulations, museums and sites visited on this tour require wearing a mask while on site. Please bring one for every participant over 6 years of age.
BOOK NOW
---
When you book a LivTours Private Tour or Experience, you are guaranteed a dedicated, expert guide that allows you the flexibility to start your tour at a time which is convenient for you, making planning easy. Our private tours ensure that you will get a tailored experience to meet all your needs so we go at your pace, perfect for families with younger children, elderly, or individuals with accessibility needs. Please be advised that all private tours begin at a base price starting at two people*. Prices are inclusive of entry tickets where applicable.
*Our Tuscan motorcycle tour and some Ferrari private experiences are inclusive of one person only.
BOOK NOW
---
Make your day even more unique and comfortable by upgrading your tour with a customizable LivTours optional add on!
BOOK NOW
---
Delicious
"Taking a food tour while in Florence sounded like fun but when we saw that LivItaly offered a food tour with the addition of a gelato class, we just couldn't resist. We had a wonderful (and delicious) time learning about local traditional dishes and had a blast making our own gelato. This is a great tour for all ages!"
Beth and family - USA
---
BOOK NOW
---
By selecting BUY AS A GIFT, you can purchase this tour as a gift for someone you care for. You will receive a gift card voucher that then can be redeemed by the person/people who will enjoy the tour.Date and Time are values that cannot be selected at the moment. You will in fact receive a gift card voucher with instructions on how to redeem the tour and then select date and time.You can create a shopping cart with multiple tours as gift cards. You may not compose a shopping cart of gift cards and actual tours with date and time.This option can also be used as an opportunity to book a tour open-dated for yourself, in case you are still in the pre-planning phase of your trip.For more information please read here.
BOOK NOW