Private Barcelona Night Tour | Twilight-Experience
---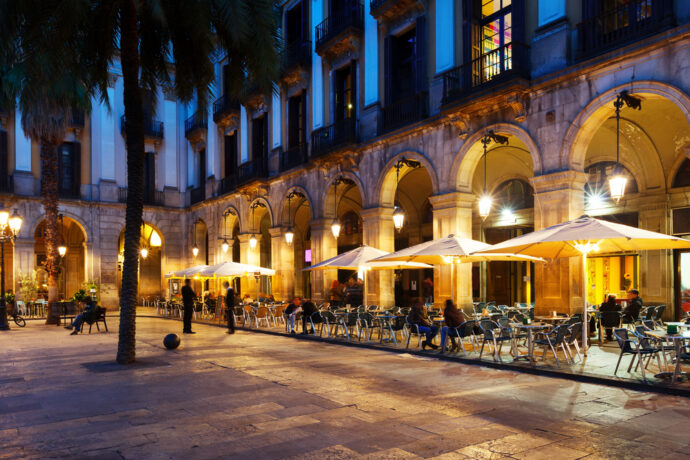 ---
LivTours Private Barcelona Night Tour is a wonderful way to experience Barcelona by night. The city is quite magical with the twinkling night lights and it is even better when with a private guide escorting you in the comfort of a chauffeured van. This vibrant seaside city comes to life when the sun sets, so get your cameras ready as your top-rated guide helps you uncover the magical side of this Mediterranean city shimmering evening sun. You will not only see the most delightful sites, but your expert guide will give you a comprehensive overview of Barcelona.  On this private tour will have the luxury of seeing the city from the most stunning vantage points.
Stopping at Barcelona's beautiful Olympic Port, set on the Mediterranean, you will enjoy a short walk towards panoramic sea views of the city. The Olympic Port and Village are not only places of physical beauty but are the result of the renowned urban changes the city experienced in the lead up to the 1992 Summer Olympic Games when an industrial zone was transformed into a gleaming social and sports nerve center.  From there it is off to Montjuic, this hill set next to the cruise ship port has a fascinating history from quarry to Grand Prix racetrack to Olympic installations for the competitions.
BOOK NOW
---
Admire the beauty of Barcelona by night when the city glimmers in the twilight

Appreciate the luxury & comfort of a Private tour and guide

Dive into the highlights of this vibrant city with your adept local tour guide

Gain an understanding of the city's history and its most important monuments

Enjoy hearing the anecdotes that have shaped this seaside city of Barcelona
BOOK NOW
Exclusive private Tours and Experiences. Also offered in Spanish, French, Portuguese, Swedish and Russian
Our prices always include tickets and reservations fees (no waiting in lines!)
Our tour guides and staff are selected experts and speak perfect English
Easy to book and prepay your tours with our secure payment system
Eco-sustainable tourism, designed to respect and support local culture, art and traditions
---
On LivTours Private Barcelona Night Tour you will see the most beautiful and interesting sites the city has to offer, learn about its fascinating history and culture. This dynamic seaside city comes alive when the sun sets and what better way to experience it than with a private local expert! Your first stop will be at the upmarket Paseo de Gracia with its outstanding Art Nouveau, known locally as Modernism, apartment buildings where you will explore the one-of-a-kind creations of architect Antonio Gaudi.
The first of Gaudi's creations that you will see on your private tour will be the façade of Casa Batlló, a house designed in the early 1900s based on the legend of Saint George, the Patron Saint of Catalonia. Set alongside two other houses built in the same time period, it is a stunning city block known as la manzana de discordia – the mismatched city block. Just a few blocks from there is another outstanding creation of Gaudi's, Casa Mila, with its distinctive, yet harmonious combination of curved limestone, iron, and recycled cava bottles. Discover why the locals quickly nicknamed it la Pedrera, a name which is still used today.
Next is a few blocks to Gaudi's masterpiece – la Sagrada Familia. With an expected completion date of 2026, this majestically unique basilica hosts captivating façades depicting the story of The Bible topped with eight of the 18 bell towers constructed and another ten well underway. There is a magical, almost mystical quality in the evening light which is picture perfect.
Lastly, it is off to Montjuic, the hilltop neighborhood which overlooks the harbor below, and offers magnificent views of the city's night lights.  You see the imposing Museu Nacional Barcelona, built as the National Pavilion for the 1929 World's Fair. You will have a chance to marvel at the dancing water and light show of the "Magic Fountain", which has been entertaining locals and visitors alike since 1929. A perfect backdrop to the end of a marvelous tour!
BOOK NOW
---
Transport in luxury vehicle

Fully guided Private tour

Plaça Catalunya

Paseo de Gracia

Gaudi's Casa Batlló

Gaudi's Casa Mila

La Sagrada Familia (from outside)

Montjuic viewpoint

Museu Nacional Barcelona

Olympic Port
BOOK NOW
---
Offered in: English, French, Spanish, Portuguese, and Italian. Please specify under "Additional notes" if you wish to book the tour in a language other than English.

Due to these unprecedented times and ongoing safety and regulation changes, some sites may have limited accessibility if the venue can not guarantee social distancing which may lead to unforeseen tour modifications. Thank you for your understanding.
BOOK NOW
---
When you book a LivTours Private Tour or Experience, you are guaranteed a dedicated, expert guide that allows you the flexibility to start your tour at a time which is convenient for you, making planning easy. Our private tours ensure that you will get a tailored experience to meet all your needs so we go at your pace, perfect for families with younger children, elderly, or individuals with accessibility needs. Please be advised that all private tours begin at a base price starting at two people*. Prices are inclusive of entry tickets where applicable.
*Our Tuscan motorcycle tour and some Ferrari private experiences are inclusive of one person only.
BOOK NOW
---
Make your day even more unique and comfortable by upgrading your tour with a customizable LivTours optional add on!
BOOK NOW
---
Can definitely recommend
"An excellent night tour of Barcelona! The guide was very good: interesting, passionate about certain topics, warm and friendly. She spent extra time with us and gave us some great recommendations for restaurants and other places to explore. We were impressed with the organization of this tour company and certainly will recommend them to others coming to Barcelona."
Edward Jay - USA
---
Highly recommend
"The night tour of Barcelona was a highlight of our trip! It is a perfect time to see the city. Maria, our guide, was just charming and very knowledgeable. We will recommend this tour to everyone we know coming to Barcelona."
Madeline - USA
---
A special gift
"This tour was a wedding gift from our work colleagues while we were on our honeymoon in Barcelona. To see Barcelona as the sun sets was a great introduction to the city and so romantic. The perfect gift and a awesome tour!"
Irene and Jack - USA
---
BOOK NOW
---
By selecting BUY AS A GIFT, you can purchase this tour as a gift for someone you care for. You will receive a gift card voucher that then can be redeemed by the person/people who will enjoy the tour.Date and Time are values that cannot be selected at the moment. You will in fact receive a gift card voucher with instructions on how to redeem the tour and then select date and time.You can create a shopping cart with multiple tours as gift cards. You may not compose a shopping cart of gift cards and actual tours with date and time.This option can also be used as an opportunity to book a tour open-dated for yourself, in case you are still in the pre-planning phase of your trip.For more information please read here.
BOOK NOW