Early Access Vatican Tour with Secret Room | Semi-Private Morning Experience
---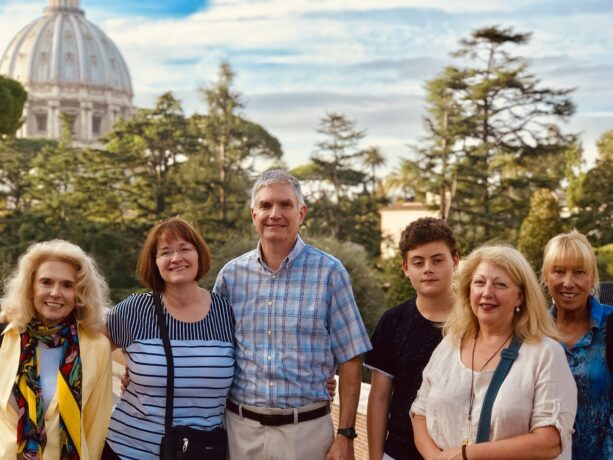 ---
2022 NEWS:
Thanks to a very special and profound partnership signed by LivItaly Tours LLC (LivTours) and the Vatican Museums for 2022, we are proud to offer clients a very unique and exclusive 8AM first entry into the Museums' doors, guaranteed to be reserved only to a handful of other collaborating tour operators. This special entry and tour are designed to guarantee you access and viewing of the Raphael Rooms and the Sistine Chapel 30 minutes before other operators and one hour before the general public. We are proud to be able to serve such impressive and extraordinary experience and share it with our clients.
---
LivTours Early Access Vatican Tour is ideal for first-time visitors to the Vatican or, if you are a returning visitor, allowing you to see more of the Vatican Museum.  With our 2022 exclusive collaboration with the Museums, LivTours enjoys direct access to a secret room that is unlocked exclusively for this tour in addition to entering the museums 1hrs before the general public and 30 minutes before other generic tour operators.  But it is not all secret rooms on this tour as your expert guide takes you to see the Hall of Animals, Hall of Busts, Gallery of Tapestries, Belvedere Torso, Raphael Rooms (before the crowds), Sistine Chapel (before the crowds) and several more stops that will give you an unparalleled overview of the Vatican Museums.
This tour was designed to give you a head start on your day, as well as get ahead of the crowds at one of the most visited sites in the world.  This is an extensive tour which is sure to give you an excellent solid foundation into the history of Rome and the papacy.
As the Vatican Museums are a must-see on every visitor's list, you can imagine it can fill up very quickly.   LivTours semi-private tour with a maximum of six people allows your guide to easily navigate you to see the countless masterpieces that larger groups would find difficult, if not impossible to do so efficiently. 
BOOK NOW
---
Enjoy a semi-private tour with no more than 6 people and an expert tour guide

Revel in priority entrance to the Vatican Museums 1 hour before opening to public

Discover the amazing art hidden behind an unlocked door with exclusive access

Admire the 8,000 sq foot ceiling of the Sistine Chapel painted by Michelangelo

Be amazed by some of the most colorful and intricate designs in the Museums hallways
BOOK NOW
Semi-Private tours and experiences are guaranteed six participants max.
Our prices always include tickets and reservations fees (no waiting in lines!)
Our tour guides and staff are selected experts and speak perfect English
Easy to book and prepay your tours with our secure payment system
Eco-sustainable tourism, designed to respect and support local culture, art and traditions
---
Your LivTours Early Access Vatican Tour starts by meeting your guide near the Vatican Museums.  As the Sistine Chapel will be the first attraction with the Raphel Rooms, your guide will meet you 30 minutes before entering (8:00am) to introduce Michelangelo's majestic ceiling and wall through visual aids and virtual reality. With your privileged access, your expert guide will enter the Vatican Museums one hour before the general public and 30 minutes before other generic tour operators. The meditative silence of the Pinecone Courtyard and the Museo Clementino is uncommon before the general public gains entrance.  
You will be led up the Simonetti staircase and down the empty galleries to reach the glorious Raphael Rooms. The Julius II apartments, which have just been restored, will be at your complete disposal, silently awaiting your arrival. Being close to Raphael's super frescoes in generally over-crowded rooms in the early morning Roman mist will be a once in a lifetime memory. Out of the Rooms you will be led in the Sistine Chapel and in awe you will be amazed by the color, the morning light, and the tranquility that the Chapel reserves at such time.
A great start needs to be followed by a great tour! You will loop back around and after a short break, ready to enjoy the galleries, courtyards, statues and secret rooms that this tour reserves.
Your visit includes visiting the breathtaking Belvedere Torso, a torso bust which inspired the likeness of Christ in Michelangelo's Last Judgement in the Sistine Chapel, a close-up view of the Apollo Belvedere, considered a flawless example of ancient art, and admire the artistry of the Lacoon Priest of Troy whose suffering is almost too life-like to be a statue.
One destination which stands out is the Cabinet of the Masks rooms which are opened exclusively for LivTours guests. This hall was constructed in the 18th century and derives its name from the stunning mosaic floors which were meticulously brought over from Hadrian's Villa at Tivoli. Your LivTours tour guide will tell you tales of the statues of the Three Graces which include depictions of Aphrodite and Nymph.  After you have finished visiting the Cabinet of the Masks, your guide will lead you through the Hall of Animals, Gallery of Statues, and Hall of Busts, which hold precious masterpieces hidden to the general public.
Walking through the Gallery of Tapestries, you will see the work of some of Raphael's students, and continuing to the Gallery of Maps, you will be surrounded by 120 meters of handcrafted maps that fill an entire hall. 
Michelangelo's Sistine Chapel will be visited again. Once inside for the second viewing you will be able to appreciate your first visit's emptiness and also be able to elaborate your appreciation further. Enjoy the detailed depictions from the Book of Genesis such as the famous The Flood, the Creation of Adam and The Fall. Looking straight ahead and you will see the stunning portrayal of The Last Judgement, where Christ is surrounded by sinners and believers. The Sistine Chapel covering over 8,000 square feet of ceiling was never meant to be an ordinary fresco, but a religious and political statement of the times, leaving us with an incredibly intricate view of the Renaissance world.
Your guide will lead you and your semi-private group into St. Peter's Basilica (please see current Alert message on top of the page), which holds a wealth of art including la Pietà, The Pity, by Michelangelo, the only signed piece of art by the world-renowned artist.  Carving this piece at the tender age of 25, take time to enjoy the pious beauty of Mary holding her dying son. You will get a chance to enjoy works of art by Baldacchino and Bernini, as well as Michelangelo's majestic dome from below. Travelers are free to climb to the top after their tour!

BOOK NOW
---
Exclusive Musuem Skip-the-line Early access

Pinecone Courtyard

Octagonal Courtyard

Room of the Animals (Secret Room)

Hall of Busts (Secret Room)

Cabinet of the Masks (Secret Room)

Muses Room

Round Room

Gallery of Candelabra

Gallery of Tapestries

Gallery of Maps

Raphael Rooms (before the crowds)

Borgia Apartments (before the crowd)

Sistine Chapel (before the crowds)

Saint Peter's Basilica (please see 2022 alert)
BOOK NOW
---
Places of worship have strict dress code requirements for entry. All participants are required to have shoulders and knees covered (no tank tops or short dresses) to enter.

Vatican management maintains the right to delay the opening of the Sistine Chapel for religious reasons, in this case the guide will modify the itinerary and extend your visit of the museums to ensure you make the most of your time before access to the Sistine Chapel is permitted.

There is no photography allowed inside the Sistine Chapel.

St. Peter's Basilica is an active church and can be closed unexpectedly for liturgical ceremonies. If closed, the time inside the Vatican Museums will be extended.
Backpacks are not permitted in the Museum.
LivTours is proud of our collaboration with the Vatican Museums, which allows us to access one entire hour before the museums are open to the general public. We are however aware that the Vatican Museums are selling at maximum capacity to accommodate an extremely high demand in what is already high season. We have absolutely no control or insight into the number of collaborations the Vatican Museums deals with nor how many people it chooses to give early entrance to. Access into the museums a full hour before entry during high season is nevertheless highly recommended considering the immeasurable crowd sizes admitted once the doors open to the public.
ABOUT OUR 6 PEOPLE SMALL GROUP POLICY
When you book a LivItaly Small Group Tour, you are guaranteed one tour guide per group of 6 people. Please bear in mind though that in order to accommodate traveling families and friends, we do on rare occasion make the exception of adding an additional one to two guests in order not to split groups who are traveling together. On that same note, you may find yourself on tour with less than six people. As we accept bookings in multiples of six, math doesn't always work in our favor to help accommodate individual travelers and their families when on the same tour, so we hope you understand and apologize for any inconvenience this may cause.
BOOK NOW
---
All LivTours Semi-Private Group Tours are limited to 6 guests per tour guide. Our commitment to maintaining our uniquely tiny group sizes can sometimes be a little tricky, mathematically speaking. For example, we want to ensure that traveling families and friends can tour together so on rare occasions we may add one or two guests in order to not split groups. On that same note, you may also find yourself on tour with less than six people! We thank you for your understanding and flexibility.
BOOK NOW
---
Definitely worth the early morning start
"We thought we might have trouble getting to the meeting point so early in the morning but instead it was easy and went very smoothly. Once we had met our guide and the other people in our group (5 of us in all) and walked to the entrance to the museum, a line had formed that went all the way down the street. We just walked right in, ahead of everyone else, so were able to see the museum and the Sistine Chapel in relative peace. After the entrance was opened up to the general public, it was pretty crowded and overwhelming. We were so glad we had booked this tour and gotten in early."
Marilyn - USA
---
Great tour
"This was a really great tour with an even better tour guide named Santi. There were just 6 people in our group. We saw and learned about tons of masterpieces in the museum and got into the Sistine Chapel before the general public did so it was a much better experience. Santi took us into rooms that were locked so we felt like VIPs. He also got us into the church through a back door so that we didn't ever have to wait in lines or bother with security. Believe me, this is really a great selling point during the tourist season here!"
Max - USA
---
A tour worth booking
"We were really happy, on many levels, that we had booked this tour to see the Vatican museum, Sistine Chapel and St. Peter Church. First of all, the area is huge and holds so much history and beauty that it would really be a shame not to get the most out of it. With our fantastic guide, Davide, we were shown the most important parts of the museum and given more information than we will be able to remember (although extremely interesting!) He gave us a wonderfully thorough introduction to the Sistine Chapel and Michaelangelo so that when we entered, it took our breath away! There's alot of walking to do but with a guide, you are given frequest resting places and bathroom stops. And I haven't even mentioned the crowds and the long lines that we merrily skipped right by! Yes, it is definitely worth booking this tour!"
Janet M. - USA
---
BOOK NOW
---
By selecting Choose Dates Later / Buy as Gift at booking, any tour can be purchased without fixed dates. This is the perfect option if you want to purchase your tour as a gift for a loved one, or if you are in the pre-planning phase of your vacation. After booking, you will receive a Travel Voucher Code and full instructions on how to schedule your tours when ready. Once your travel plans are confirmed, you can easily use the Travel Voucher Code on the LivTours website to formally schedule your tours. You can find out more here.
BOOK NOW