Early Access Vatican Tour with Secret Room | Semi-Private Morning Experience
---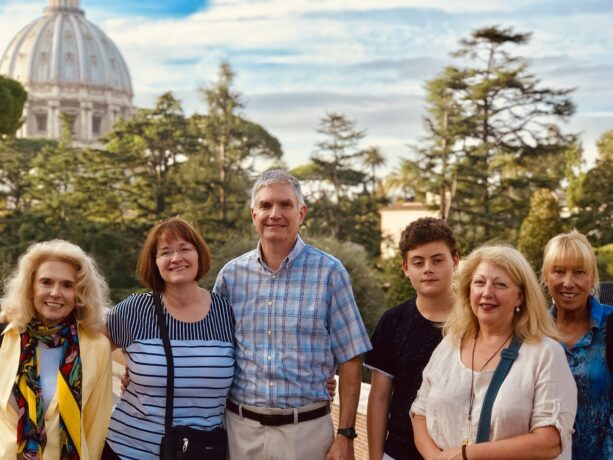 ---
LivTours Early Access Vatican Tour is ideal for first-time visitors to the Vatican or, if you are a returning visitor, allowing you to see more of the Vatican Museums.  As an Official Vatican Silver Level Collaborator, LivTours enjoys direct access to a secret room that is unlocked exclusively for this tour.  But it is not all secret rooms on this tour as your expert guide takes you to see the Hall of Animals, Hall of Busts, Gallery of Tapestries, Belvedere Torso, Raphael Rooms, Sistine Chapel and several more stops that will give you an unparalleled overview of the Vatican Museums.
This tour was designed to give you a head start on your day, as well as get ahead of the crowds at one of the most visited sites in the world.  This is an extensive tour which is sure to give you an excellent solid foundation into the history of Rome and the papacy.
As the Vatican Museums are a must-see on every visitor's list, you can imagine it can fill up very quickly.   LivTours semi-private tour with a maximum of six people allows your guide to easily navigate you to see the countless masterpieces that larger groups would find difficult, if not impossible to do so efficiently. 
BOOK NOW
---
Enjoy a semi-private tour with no more than 6 people and an expert tour guide

Revel in priority entrance to the Vatican Museums 1 hour before opening to public

Discover the amazing art hidden behind an unlocked door with exclusive access

Admire the 8,000 sq foot ceiling of the Sistine Chapel painted by Michelangelo

Be amazed by some of the most colorful and intricate designs in the Museums hallways
BOOK NOW
Semi-Private tours and experiences are guaranteed six participants max.
Our prices always include tickets and reservations fees (no waiting in lines!)
Our tour guides and staff are selected experts and speak perfect English
Easy to book and prepay your tours with our secure payment system
Eco-sustainable tourism, designed to respect and support local culture, art and traditions
---
Your LivTours Early Access Vatican Tour starts by meeting your guide near the Vatican Museums.  With your privileged access, your expert guide will lead you past the already long lines and enter the Vatican Museums one hour before the general public. The meditative silence of the Pinecone Courtyard and the Museo Clementino is uncommon once the general public gains entrance.  
Your visit includes visiting the breathtaking Belvedere Torso, a torso bust which inspired the likeness of Christ in Michelangelo's Last Judgement in the Sistine Chapel, a close-up view of the Apollo Belvedere, considered a flawless example of ancient art, and admire the artistry of the Lacoon Priest of Troy whose suffering is almost too life-like to be a statue.
One destination which stands out is the Cabinet of the Masks rooms which are opened exclusively for LivTours guests. This hall was constructed in the 18th century and derives its name from the stunning mosaic floors which were meticulously brought over from Hadrian's Villa at Tivoli. Your LivTours tour guide will tell you tales of the statues of the Three Graces which include depictions of Aphrodite and Nymph.  After you have finished visiting the Cabinet of the Masks, your guide will lead you through the Hall of Animals, Gallery of Statues, and Hall of Busts, which hold precious masterpieces hidden to the general public.
Walking through the Gallery of Tapestries, you will see the work of some of Raphael's students, and continuing to the Gallery of Maps, you will be surrounded by 120 meters of handcrafted maps that fill an entire hall. You and your semi-private tour will also spend some time in the Raphael Rooms, created exclusively by the great master painter, where you will see one of his most famous works, the School of Athens. Spend a minute trying to find Raphael's signature, which consisted of painting himself into his paintings. 
Now it is on to see the greatest works of art ever created – Michelangelo's Sistine Chapel. The Chapel observes silence so your expert guide will give you all the info you need to truly appreciate your experience before even entering. Once inside the small chapel, with only a few other priority access tour groups around you, enjoy the detailed depictions from the Book of Genesis such as the famous The Flood, the Creation of Adam and The Fall. Looking straight ahead and you will see the stunning portrayal of The Last Judgement, where Christ is surrounded by sinners and believers. The Sistine Chapel covering over 8,000 square feet of ceiling was never meant to be an ordinary fresco, but a religious and political statement of the times, leaving us with an incredibly intricate view of the Renaissance world.
Your guide will lead you and your semi-private group into St. Peter's Basilica, which holds a wealth of art including la Pietà, The Pity, by Michelangelo, the only signed piece of art by the world-renowned artist.  Carving this piece at the tender age of 25, take time to enjoy the pious beauty of Mary holding her dying son. You will get a chance to enjoy works of art by Baldacchino and Bernini, as well as Michelangelo's majestic dome from below. Travelers are free to climb to the top after their tour!
BOOK NOW
---
Musuem Skip-the-line Early access

Pinecone Courtyard

Octagonal Courtyard

Room of the Animals (Secret Room)

Hall of Busts (Secret Room)

Cabinet of the Masks (Secret Room)

Muses Room

Round Room

Gallery of Candelabra

Gallery of Tapestries

Gallery of Maps

Raphael Rooms

Borgia Apartments

Sistine Chapel

Saint Peter's Basilica
BOOK NOW
---
Places of worship have strict dress code requirements for entry. All participants are required to have shoulders and knees covered (no tank tops or short dresses) to enter.

There is no photography allowed inside the Sistine Chapel.

St. Peter's Basilica is an active church and can be closed unexpectedly for liturgical ceremonies. If closed, the time inside the Vatican Museums will be extended.
Backpacks are not permitted in the Museum.
LivTours is proud of our collaboration with the Vatican Museums, which allows us to access one entire hour before the museums are open to the general public. We are however aware that the Vatican Museums are selling at maximum capacity to accommodate an extremely high demand in what is already high season. We have absolutely no control or insight into the number of collaborations the Vatican Museums deals with nor how many people it chooses to give early entrance to. Access into the museums a full hour before entry during high season is nevertheless highly recommended considering the immeasurable crowd sizes admitted once the doors open to the public.
Due to these unprecedented times and ongoing safety and regulation changes, some sites may have limited accessibility if the venue can not guarantee social distancing which may lead to unforeseen tour modifications. Thank you for your understanding.
LivTours' group size of max 6 participants is and always has been based on sustainable travel and especially in these new times, we are proud to be at the forefront of the innovation, changes, and challenges that are presented to us during this post-pandemic time. At the moment, due to COVID-19 safety regulations, the museums and sites visited on this tour require wearing a mask while on the site. Please bring one for every participant over 6 years of age.
BOOK NOW
---
All LivTours Semi-Private Group Tours are limited to 6 guests per tour guide. Our commitment to maintaining our uniquely tiny group sizes can sometimes be a little tricky, mathematically speaking. For example, we want to ensure that traveling families and friends can tour together so on rare occasions we may add one or two guests in order to not split groups. On that same note, you may also find yourself on tour with less than six people! We thank you for your understanding and flexibility.
BOOK NOW
---
Covid-19
All of our tours and experiences are in compliance with the latest local Covid-19 safety protocols. More information can be found in the voucher you will receive upon booking your tour/s.
---
BOOK NOW
---
Giovanna was great
"My wife and I did the early morning Vatican & Sistine Chapel small group tour with Giovanna and it was phenomenal. Our Vatican day has been the best day of our trip and it is because of the experience we had with Giovanna. We were the only people in the tour group, so it made the experience very personalized. Giovanna was amazing and so knowledgeable. She pointed out all of the major highlights, gave us background info and history, and even made sure to show us the small/interesting things you would not see on your own. We are so glad we did this tour and would urge anyone who wants to make the most of their time in the Vatican to book this tour."
Greg - USA
---
go early
"This tour was perfect and we highly recommend it. Our guide, Lorenzo, was so good, passionate and informative. It is organized really well. We loved this early tour because you get to go through the museums and the chapel before all the crowds get there. Highly recommended!"
Pauline - Canada
---
Book with LivItaly
"I have wanted to tour Vatican City for as long as I can remember and when the time finally came to book a tour, I researched extensively on tour companies and experiences. I knew that I wanted to avoid the crowds as much as possible and wanted to do a small group tour. I found LivItaly's early morning (7:30am) small group tour. Be careful since other tour companies will claim they do small group tours but there are 15-20 people in a group. When LivItaly states small, it's 6 people TOTAL. We didn't need any headphones, we had no problem hearing our guide, Martina, and the tour felt so customized and intimate. Do yourself a favor and book the 7:30am tour, it's so worth it on every level. The magnitude of the amount of people that will be within the walls even by 11am is unimaginable. Amazing isn't enough to describe Martina. She was so aware, thoughtful, knowledgeable, funny, great personality, fun, just all around awesome. I learned so much from her! I highly recommend LivItaly 1000X. Genuinely small group tour, you'll have the best experience available in Roma! And whatever you do, do not try to book anything after you get to Rome, do it now!"
Pauline - USA
---
BOOK NOW